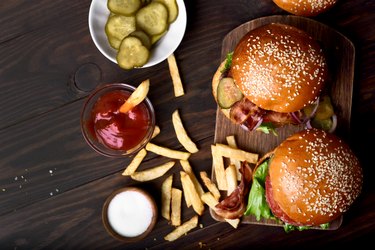 We all have those days where a trip to Wendy's sounds like a mouth-watering dream. While fast food is rarely a good idea nutritionally, the fan-favorite Baconator nutrition proves that some food items far outweigh others.
Tip
A Wendy's Baconator has 950 calories, with 560 of these calories coming from fat.
Baconator Calories
According to Wendy's, a Baconator — which is a half-pound of fresh, never frozen beef, American cheese, six crispy pieces of Applewood smoked bacon, ketchup and mayonnaise — has 950 calories. These nearly 1,000 Baconator calories are comprised of 38 grams of carbohydrates, 58 grams of protein and 63 grams of total fat — which equates to 560 calories.
If you're someone who likes to go bunless when eating a burger, these numbers will drop slightly. However, Baconator carbs will see the only notable reduction. This means that, even without a bun, you're still looking at an overwhelming amount of fat in a single food item, which is not even a full meal.
This is alarming because, according to the 2015-2020 Dietary Guidelines for Americans, women ages 19 and up should be consuming 1,600 to 2,000 calories a day (unless weight-loss is on the agenda). Men of the same age range should be eating between 2,000 and 3,00 calories a day. Given this burger alone accounts for more than half of a female's calorie consumption and nearly one-third of a man's, it's simple to see why making them part of a regular diet is problematic.
Then there's macronutrients to think about. Of these calories, 5 to 30 percent should be dedicated to protein, 45 to 65 percent should equate for carbs and 30 to 35 percent should come from fat.
And just think, that's before even adding fries and a soda into the picture — two common components of a Wendy's value meal. When you add a medium fry and medium Coke to the overall order, you're looking at an additional 740 calories, 6 grams of protein, 9 grams of fat and a whopping 143 grams of carbs.
Overall Baconator Nutrition
While the calories and macronutrients alone are eye-opening, to say the least, once you take a closer look at Baconator nutrition overall, your jaw will likely drop to the floor.
Of the 63 grams of total fat, 24 grams are saturated. This is particularly concerning given the fact that, according to MedLinePlus, saturated fats should account for no more than 7 percent of your daily calories for heart and overall health. Put in terms of grams, this means adults should be eating no more than 16 to 22 grams of saturated fats per day — though less is preferable.
What's more, there are 3 grams of trans fats in a Baconator. According to MedLinePlus, trans fats should take up no more than 1 percent of your daily calories — which comes out to about 20 calories or 2 grams. The fact that the Baconator nutrition shows 3 grams means this burger is far from healthy.
Fat aside, Baconator nutrition shows that the giant burger has 205 milligrams of cholesterol, which is considered high. The 2015-2020 Dietary Guidelines don't set forth a cholesterol limit, however, the authors do note that it's healthier to stick to the 2010 guideline of no more than 300 milligrams per day. Considering this burger accounts for more than two-thirds of the overall daily intake, it can make it difficult to stay in range the rest of the day given many foods have cholesterol.
Baconator vs. Other Menu Items
If you're really jonesing for a cheeseburger, a better bet would be to opt for a Dave's single. While it's still not a healthy choice, given it has 570 calories, 29 grams of protein and nearly half the total fat of a Baconator (34 grams compared to 63 grams), it's slightly less alarming and allows for more wiggle room throughout the rest of your day.
Burgers aside, there are many other options on the Wendy's fast food menu that offer far less calories and carbohydrates. Take the Grilled Chicken Sandwich for example. It has a total of 370 calories, 34 grams of protein, 10 grams of fat and 36 grams of carbs. And, of course, there's always the option to go bunless which will deduct the majority of those carbs. Pair it with a side of strawberries and blueberries (an additional 30 calories and 8 carbs) for a full meal.