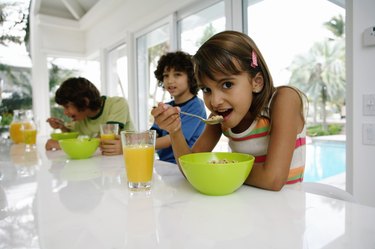 The healthiest cereals contain whole grains, little or no sugar, no saturated or trans fat, few calories, no cholesterol, low sodium and are high in fiber. The catch is that cereal still needs to be palatable; otherwise, if you are simply pushing it aside to grab the toaster pastries, it is not helping you at all. A healthy cereal needs to provide a balance of what is healthy and what tastes good. Post Grape-Nuts is a crunchy, baked cereal providing 28 percent of the recommended daily value of fiber.
Serving Size and Varieties
One serving of Post Grape-Nuts equals ½ cup or 58 g, with about 12 servings per package, while a single serving of Post Grape-Nuts Flakes equals ¾ cup of 29 g. Post Grape-Nuts are much more dense than the flake variety, which explains the difference in serving size and weight.
Calories, Fat, Cholesterol, Sodium and Potassium
One serving of Post Grape-Nuts has 200 calories and a total fat content of 1 g, no cholesterol, 290 mg of sodium and 230 mg of potassium. A single serving of Grape-Nuts Flakes has 110 calories with 10 calories from fat, 1 g of total fat, no cholesterol, 125 mg of sodium and 100 mg of potassium.
Carbohydrates and Protein
A single serving of Grape-Nuts has 48 g of carbohydrates, with 7 g of dietary fiber, 5 g of sugars, 36 other carbohydrates and 6 g of protein. One serving of Grape Nuts Flakes has 24 g of carbohydrates, 3 g of fiber, 4 g of sugars and 17 g of other carbohydrates and 3 g of protein. A healthy cereal is judged by its fiber and sugar content. Post Grape-Nuts has a healthy 7 g of fiber and a healthy enough serving of sugar at 5 g, making the cereal tasty enough to eat and not languish on the pantry shelf.
Vitamins and Minerals
Fortified with 14 essential vitamins and minerals, Grape-Nuts provides 2 percent of the daily value of calcium, 8 percent of zinc, 10 percent of copper and vitamin D, 15 percent of vitamin A, 20 percent of phosphorus and magnesium, 25 percent of thiamin, riboflavin, niacin, vitamins B6 and B12, 50 percent of folic acid and 90 percent of iron. According to the USDA Dietary Guidelines for Americans, a healthy cereal contains all of the essential vitamins and minerals your body needs to maintain health.
Ingredients
Grape-Nuts contains whole grain wheat flour, malted barley flour, salt and dried yeast. Grape-Nuts is vitamin and mineral fortified, meaning these micronutrients are added during the production process. A healthy cereal is also judged by what it doesn't have. Post Grape-Nuts does not have artificial colors, flavors or additives.