If your stomach starts to hurt every time you eat nuts, see your physician to rule out serious health issues. Mild discomfort that goes away a few hours after eating nuts is probably caused by intestinal gas that makes you feel bloated and uncomfortable. The timing of your abdominal pain, how long it lasts and how much it hurts are all clues to the cause and seriousness of your condition.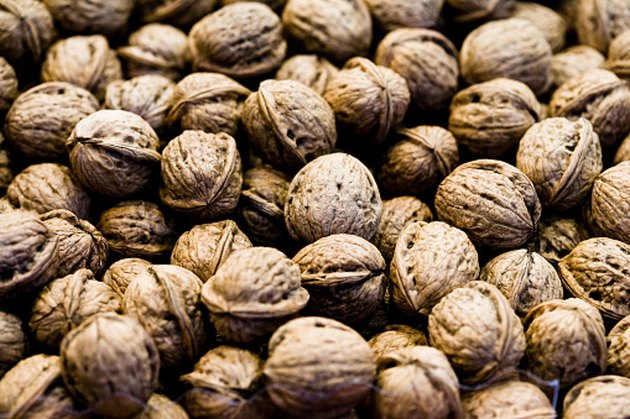 Timing
Pay attention to how soon your stomach starts to hurt after you eat nuts, and what else you ate along with them. If your stomach begins to bother you immediately, you may have a nut allergy. If it starts several hours later, when the food has had time to arrive in your lower intestine, then gas is more likely the culprit. If the pain happens when you eat a lot of food at once, particularly fatty foods like nuts, that could indicate a gall bladder problem.
Gas
Gas can result when you eat certain carbohydrates and your small intestine doesn't have enough of the right enzyme to digest that type of food, according to the National Digestive Diseases Information Clearinghouse. When the food reaches the large intestine, bacteria can break down the food there, but sometimes this action produces methane, which can make you feel bloated and uncomfortable.
Allergies
A food allergy is a malfunction of the body's immune system. If you have a nut allergy, your body incorrectly identifies nut proteins as hazardous. Within minutes of eating nuts, your mouth might start tingling, hives may erupt on your skin, your face and throat could swell up, you might have trouble breathing, you could feel lightheaded, and your stomach could start to hurt. You might even throw up.
Gall Bladder
The gall bladder holds bile from your liver, which helps your body digest fats. Sometimes, the ducts that let bile flow out of the gall bladder and into the small intestine get blocked by gall stones. Pain from a gall bladder attack is often just under the ribs on the right side of the body, and it starts 15 to 90 minutes after eating. If you have a gall bladder problem, high fat foods like nuts might provoke stomach pain, but you would likely have this pain whenever you ate a big meal or other kinds of fatty foods, not exclusively in response to nuts. Gall bladder pain is usually so severe that it sends people to the emergency room, where a doctor can find the problem using a sonogram or an MRI.
To keep track of your pain and what provoked it, consider keeping a food journal that lists what you ate, when, how much and what your response was.
Prevention
If you have severe pain when you eat nuts, see your doctor. If you only experience moderate discomfort, you can avoid nuts or you can try to get your system accustomed to them. Eliminating nuts seems like a simple solution, but they are an excellent source of vegetable protein and heart-healthy monounsaturated fats. If you don't want to give up nuts, try reducing the amount you eat at one time to find the point where you can digest them painlessly. You can also try over-the-counter digestive aids to help break down nut carbohydrates.