While three weeks is enough time to improve your fitness a bit, it probably won't make a significant difference in your physique. If you're up against a three-week deadline to look your best, use this time to jump-start healthy weight-loss habits so you can begin to slim down, but don't expect huge results unless you're already in great shape. Don't worry, though -- a few tips and tricks can affect your appearance in small ways within a short time, which will help you look your best at the end of the three weeks.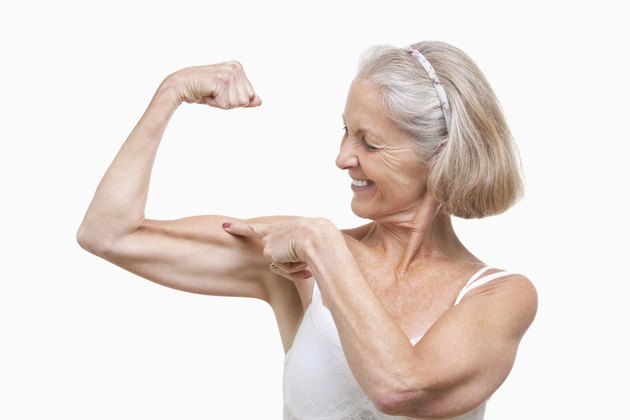 Increase Your Exercise to Get Fit
You can't expect to go from sedentary to fit in only three weeks, but it's likely that you can improve your fitness level in this time span. If you're not currently exercising, begin a cardio and strength-training program that will start to boost your fitness. Aim for at least 150 minutes of moderate-intensity workouts or 75 minutes of vigorous-intensity weekly workouts for good health, recommends the Centers for Disease Control and Prevention. Start with a moderate activity like brisk walking; if you feel up to a more aggressive workout, try running, jogging, rowing or swimming to burn calories.
If you're already doing cardio regularly, take it up a notch by adding intervals to your routine. High-intensity interval training, or HIIT, gives you results faster than steady-state cardio, so HIIT can help when you're trying to get fit on a tight deadline. After warming up, work at a higher intensity for 30 seconds to one minute -- work hard enough so that you need to concentrate on your workout -- then recover with a 1- to 2-minute interval. Repeat those intervals for the duration of your cardio workout.
You should also strength-train twice a week, performing exercises that work your entire body -- legs, buttocks, core, shoulders and arms. Use compound exercises, such as push-ups, inverted rows, lunges, dead lifts and planks, to burn calories and tone up. You won't gain much muscle in three weeks, but you can begin to tone up and improve your posture so that you look more fit.
Remember to check with your doctor before beginning any exercise program. If you're not sure where to begin with cardio or strength training, consult a fitness professional for help designing a plan.
Whip Your Diet Into Shape
If you're not already monitoring your calorie intake, you should start. Since 3,500 calories theoretically equals a pound, if you eat 500 fewer calories than you burn daily you'll lose 1 pound per week; cut 1,000 calories per day and you'll lose 2 pounds. While cutting calories won't make you drop three sizes in three weeks, you can lose up to 6 pounds of fat during this time.
Make your lower calorie diet easier to follow by loading up on low-cal foods, such as vegetables, at each meal, and snack on a piece of fruit or on an ounce of almonds between meals to resist buying a fattening snack from the vending machine. Incorporate healthy sources of protein, such as nuts, legumes, eggs, poultry or fish, at each meal, and load up on whole grains, such as 100 percent whole-wheat bread, quinoa or brown rice. Avoid refined grains -- including white rice and products made from refined white flour and sugar -- since these foods can cause blood sugar spikes that make you feel tired and hungry.
If you usually drink sugary beverages, switch to water or unsweetened tea to cut calories. For example, drinking plain, green tea instead of an 8-ounce sweetened, mocha-flavored coffee every day for the three weeks will save you more than 3300 calories, which is enough to lose nearly a pound of fat.
Minimize Bloating Before Your Event
Although three weeks isn't enough time to see major changes in your physique, fine-turning your diet before your deadline can minimize bloating, which can make you look trimmer and more fit. Reduce your sodium intake to prevent water retention and bloating. Simply eliminating processed foods and fast foods during the three-week diet probably reduced your sodium intake, but you can lower it even more by choosing low-sodium varieties of soups, cottage cheese and bread -- healthy foods that are usually loaded with sodium.
Avoid carbonated beverages -- not only are sugary soft drinks packed with calories, but the carbonation in these drinks triggers bloating. Also avoid fatty foods, which can affect your digestion to make you look more bloated. Some healthy foods can also cause bloating, so it is best to avoid cabbage, Brussels sprouts, lentils and beans day or two before your deadline to avoid bloating.
Manage Your Expectations
Don't expect to see major changes, especially if you have a significant amount of weight to lose. The truth is, looking fit is a significant time commitment you need to maintain on a regular basis; it's not something you can achieve in a few weeks by following a diet. In fact, fad diets that promise significant weight loss in a few weeks don't yield long-term results, and they might even make you gain more weight in the long run.
Instead of looking for a three-week fix, look at your short deadline as motivation to jump-start the lifestyle changes you need to look fit. In a few weeks, you'll likely notice improvements in your cardiovascular fitness and strength, which can motivate you to continue on your fitness journey. Three weeks also allows some time for your palette to adjust to the taste of whole, unprocessed foods, which can make it easier to manage cravings and to stick to a healthier diet, long after the three-week period has ended.