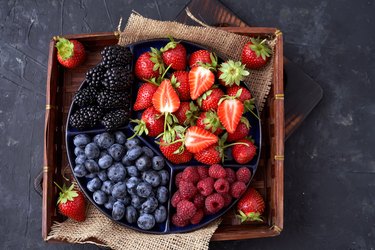 Whether you're getting in shape for a special occasion or just trying to improve your health, the 28-day diet may be a program worth considering. Created by Dr. Mehmet Oz, host of the Dr. Oz show, this sensible plan is aimed at helping you drop a few pounds in a little less than one month.
The 28-Day Diet
The 28-day diet, also known as the "28-Day Shrink Your Stomach Challenge," is a four-week eating and exercise program designed to help you lose weight, decrease bloat, burn fat and shrink your stomach.
On the Dr. Oz website, you can find the 28-day meal plan along with recipes and tips to maximize your success. A single-page chart with all of the diet and plank challenge details is available for you to print out and put somewhere convenient.
The "28-Day Plank Challenge" is also part of the overall program. Starting on day 1 and continuing daily until day 28, you will be planking for anywhere from 20 seconds to four minutes. Days 6, 13, 19 and 26 are your only days off for rest.
The website gives users some very realistic and helpful strategies for following the plan. But you can also use these tips with any diet or weight-loss program. Some of the strategies include:
Swap sodas for water.

Prep your meals ahead of time.

Use leftovers in other meals.

Always carry healthy snacks.

Create a healthy-living mantra.

Make your own almond milk.

Make time for exercise.

Do the plank challenge.

Make sleep a priority.

Tell others about your progress.

What You Can Eat
The 28-day meal plan includes a 12-hour fasting window from 9:00 PM to 9:00 AM. Once you are done with the fast, you will follow the 28-day meal plan for breakfast, lunch, dinner and snacks.
Breakfast should include 1/2 avocado paired with a protein or whole grain. Eggs and avocado, a chocolate smoothie made with avocado or avocado toast are all acceptable choices.

Lunch is where you focus on fruit and fiber. For example, a shredded Brussels sprout and apple salad or raspberry and cabbage salad.

Dinner is where you will eat a high-protein meal with whole grains and veggies. More specifically, you can have 3 ounces of lean meat or 1/2 cup of beans; 1/2 cup of grains such as quinoa, buckwheat, millet, barley, farro or soba noodles; and unlimited nonstarchy vegetables.

Snacks are allowed twice a day. Examples include 2 tablespoons of nut butter or 1 ounce of nuts.
But the secret sauce of the program is the veggie flush drink that you can consume all day long. The stomach-shrinking beverage consists of spinach, cucumber, celery, pear, water and the juice of one lemon. In addition to the healthy foods suggested on this plan, there are also some bloating foods you need to eliminate, including:
Sugar

Diet soda and artificial sweeteners

Packaged and processed foods

Dairy

Alcohol

Other Weight-Loss Strategies
Once the 28 days are over, Dr. Oz says you can transfer the healthy habits you learned to your regular eating plan or do the diet for another round. Since calories are not mentioned on the site, you can refer to the Dietary Guidelines for Americans, which estimates daily calorie needs by age, sex and physical activity.
For example, a 46- to 50-year-old moderately active male needs 2,400 calories each day to maintain his weight and a 46- to 50-year-old moderately active female needs 1,800 calories a day. A moderate activity level is considered a lifestyle that includes at least 150 minutes of exercise each week, according to the Centers for Disease Control and Prevention.
When it comes to fitness, one of the strategies recommended in the 28-day diet is to make time for exercise. The program comes with the 28-Day Plank Challenge, but you are on your own for the bulk of your physical activity.
One way to get started with fitness is to follow the Physical Activity Guidelines for Americans issued by the U.S. Department of Health and Human Services. These guidelines recommend following a fitness plan that includes at least 150 to 300 minutes a week of moderate-intensity or 75 to 150 minutes of vigorous-intensity cardiovascular exercise and two or more days of strength-training sessions.
Incorporating exercise into an overall weight-loss program may help increase the amount of weight you lose. But even more important, is the exercise you do after you've finished your diet. An October 2013 review published in Progress in Cardiovascular Disease summarized data from several studies, and the authors found that physical activity plays an important role in the amount of weight regain following successful weight loss.