Rice is the staple grain in the diet of half the world's population, according to the International Rice Research Institute. When it comes to rice options, basmati rice in its whole-grain form may be one of the better choices. While there is a rice diet, there's no basmati rice diet, but that doesn't mean it can't fit into any healthy diet plan. Consult your doctor before starting any weight-loss diet.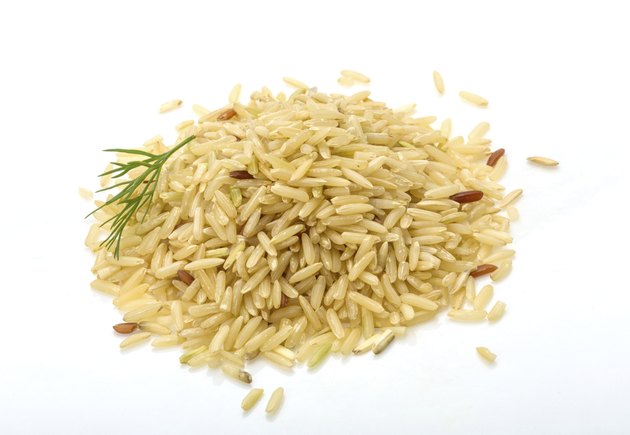 Basmati Rice Nutrition
Basmati rice is a long-grain rice with a distinct flavor. Compared to regular long-grain rice, basmati rice is lower in calories. A 1/4-cup serving of raw brown basmati rice has 150 calories, 1.5 grams of fat, 33 grams of carbs, 2 grams of fiber and 4 grams of protein. The same serving of raw brown long-grain rice has 170 calories, 1 gram of fat, 36 grams of carbs, 2 grams of fiber and 4 grams of protein.
Basmati Rice and Glycemic Index
The glycemic index, which is a system that categorizes carbohydrates based on how they affect blood sugar, is a tool that may help you on your weight-loss diet. Foods with a low-glycemic index digest slowly and may help aid in hunger control and weight loss. When it comes to glycemic index, basmati rice has a lower GI than regular rice -- 67 vs. 89 -- which may make it a better choice whether you're trying to lose or maintain a healthy weight.
Serving Suggestions
When prepared, basmati rice makes a fluffy, dry rice and can be used in place of your usual long-grain rice varieties in recipes. Due to its floral fragrance, it's a good grain choice to pair with fish or chicken dishes. It also works well as the grain salad. Mix the rice with chopped red and green peppers, red onions, sliced grape tomatoes and chickpeas for a healthy and filling meal.
Basmati Rice and Rice Diet
If you're following the rice diet, basmati rice may fit into your plan. This diet was developed in 1939, according to Diets in Review, as a way to help promote weight loss and manage illnesses such as diabetes and heart disease. The diet is, however, a very-low-calorie eating plan and should not be followed unless under the supervision of a doctor.