You might be surprised to learn that a number of foods contain yeast. If you're allergic to yeast, it's important to know which foods do not contain yeast. Some people also try a yeast-free diet in an attempt to cure a yeast infection, but the jury is out on whether this is effective, according to the University of Maryland Medical Center.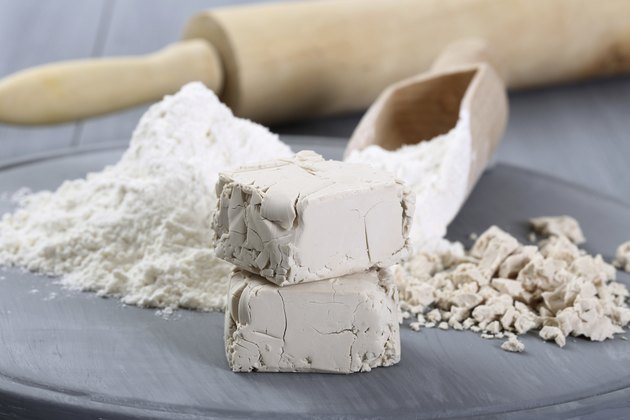 Meat, Poultry and Chicken
Usually, protein sources, such as meat, fish and poultry, don't contain yeast. Avoid processed or breaded meats, however, as the fillers or breading used in making these products may contain yeast. When you're on a yeast-free diet, it's fine to eat nuts and legumes, however.
Grains and Starches
Many baked goods, such as bread, pretzels, crackers, pizza crusts and bagels, contain yeast to help them rise. To avoid yeast in baked goods, choose unleavened products, which do not contain yeast. Check the ingredient list to find baked goods made with baking powder or baking soda instead of yeast -- or simply avoid baked goods altogether. Plain whole grains such as brown rice, quinoa, popcorn and rolled oats, aren't likely to contain yeast, so prepare these as a side dish instead of bread or rolls.
Fruits and Vegetables
Fresh vegetables don't contain yeast, but fermented or pickled vegetables are often made by using lactobacillus combined with yeast. These foods include sauerkraut, pickles, kim chi, miso and tempeh. In general, fruits don't contain yeast, as long as they are fresh and are not starting to spoil. Some fruits, such as berries, citrus fruits and grapes, are likely to be contaminated with yeast or mold, notes a study published in the "International Journal of Food Microbiology."
Dairy Products
Milk doesn't contain yeast, but some other dairy products are made by fermentation, which means that they may contain yeast. If you're trying to avoid yeast, don't eat yogurt, kefir, buttermilk or cheese. Butter, cream and ice cream, however, are not likely to contain yeast.
Other Foods
Soy sauce and anything with vinegar may contain traces of yeast, which means you should avoid condiments such as mayonnaise, relish, olives, mustard and barbeque sauce. Many alcoholic beverages contain yeast, including wine and beer. You can use lemon juice, herbs and spices as alternative flavoring agents for your food.