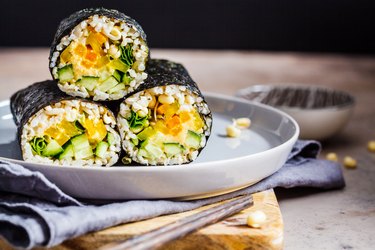 Most often, there are fewer calories in a vegetable sushi roll than in a sushi roll made with fish, crab or meat. Some sushi fans choose to eat vegetable sushi rolls as part of a vegetarian diet, while others choose them simply because they're delicious and full of nutrients.
Vegetable Sushi Nutrition
There are different types of vegetable sushi rolls, and the calories and nutrition in them will depend on the specific ingredients.
According to the USDA, a vegetable roll made with white rice, seaweed, avocado, carrots, lettuce, cucumber and sesame seeds has:
​​Calories​:​ 224
​​Total fat​:​ 5 g

​​Saturated fat​:​ 1 g
​​Trans fat​:​ 0 g

​​Cholesterol​:​ 0 mg
​​Sodium​:​ 508.6 mg
​​Total carbs​:​ 43 g

​​Dietary fiber​:​ 4.1 g
​​Sugar​:​ 9 g

​​Protein​:​ 4 g
Vegetable Roll Calories and Macros
Vegetable sushi can be made with a broad range of ingredients, and the varying sizes also make it difficult to give this food a specific calorie total. In the vegetable roll above, you'll get 224 calories, 5 grams of fat, 43 grams of carbs and 4 grams of protein.
Many varieties of vegetarian sushi are full of nutrition. Be sure to check individual product labels and ingredient lists for specific nutrition and calorie information.
Keep in mind that eating vegetable sushi with ginger adds about 25 calories per tablespoon, while soy sauce adds 11 per tablespoon.
Is Vegetarian Sushi Healthy?
As far as nutrients go, vegetarian sushi rolls can be considered a healthy meal or snack option. The vegetables provide important nutrients your body needs, and they're typically low in calories and saturated fat.
Forego or limit ingredients like spicy mayo (high in fat) and eel sauce (contains sugar) to keep the calories low and nutrient-value high.
That said, the rice in veggie sushi rolls can make them high in carbs, which may be a concern for people who are trying to control their blood sugar. Choosing brown rice for vegetarian sushi rolls may help with blood sugar balance, according to Harvard Health Publishing.