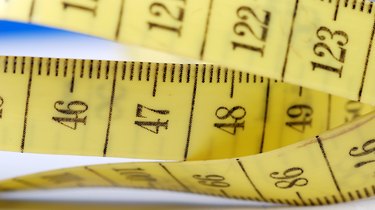 If you weigh 400 pounds, it's a near certainty that you could stand to lose a few pounds. In many ways, the process is the same as if you weigh 200, or even 150. However, getting started may take a few extra steps to ensure that you don't cause yourself harm as your body adjusts to your new regimen. Fitness coach Ben Cohn of Hillsboro, Oregon, also notes that many people who are severely overweight have a long history of unsuccessful weight-loss attempts. Motivating early successes can help you start to build new weight-loss habits.
Preparatory Steps
Step 1
Schedule and attend an appointment with your doctor. If you have any health problems that are causing your excess weight or that could be exacerbated by a weight-loss regimen, build a weight-loss plan with the help of your doctor. If your doctor okays you to lose weight, continue with the steps in this article.
Step 2
Keep a journal of everything you eat for two weeks. Write down what you eat and how much of each food. Use an online calorie counter to note approximately how many calories each item represents.
Step 3
Total up the calories you consumed over the two weeks, then divide by 14. The result is your average daily calorie intake. This might be a surprisingly high number, but don't judge yourself. This tally is only to establish a starting point from which to build your weight-loss program.
Step 4
Take a daily walk through the two weeks you are journaling. Don't worry about distance or speed, just get out and walk for a while. This will help get your body accustomed to becoming more active.
Diet Plan
Step 1
Use a free online calorie calculator to design a daily diet that's 500 to 1,000 calories less than your usual daily intake. According to HelpGuide.org, a website dedicated to mental and physical health education, this will mean you lose 1 to 2 pounds per week, or up to 100 pounds in your first year alone.
Step 2
Make the most out of the calories you do eat by cutting out high-calorie, low-value foods like sweets and refined grains. Instead, eat whole grains, vegetables and foods rich in protein and plant oils. Take a daily multivitamin to help ensure good nutrition while on your diet.
Step 3
Drink a large glass of water 10 minutes before each meal and as your first response to feeling hungry between meals. According to personal trainer and author Bill Phillips, this will help you control your portions and snack cravings.
Step 4
Take one day off from your diet each week. Although this will slow your progress somewhat, it will keep you on diet for the long-term. It's easier to resist that treat on Wednesday when you know you can indulge on Saturday.
Exercise Plan
Step 1
Continue to walk every day, gradually building up your distance and speed. If you feel any pain, dizziness or shortness of breath, check with your doctor before resuming your walks.
Step 2
Upgrade your cardio to a more aggressive exercise, like cycling or swimming, once the walking becomes easy. Again, it's best to check with your doctor before making this change.
Step 3
Get a resistance workout like weight training or yoga three times per week. Many overweight people find this is an inspiring step. They've been lifting heavy weight just by moving around and thus can pick up surprisingly heavy stacks at the gym.
Maintenance
Step 1
Keep track of your meals, exercise and weight in your journal. Phillips notes that for many people, this step alone helps them stay on track.
Step 2
Forgive yourself when you "fall off the wagon." A diet is a long-term, lifestyle change. You won't be perfect every day.
Step 3
Give yourself small, non-food rewards for reaching benchmark goals. Some people prefer to use weight-related goals, such as losing 10 more pounds. Others choose to tie their goals to consecutive days without cheating.
Things You'll Need
Internet access

Journal

Bathroom scale
Tip
Consider joining a weight-loss support group such as Overeaters Anonymous or Weight Watchers. The support and advice from people going through the same thing you are can be invaluable.
Warning
Weighing 400 pounds can be the sign of serious medical conditions. You should check with your doctor before beginning any weight loss program.