You decided to start a new vitamin regimen. You have your doctor's approval and have bought the vitamins that you, or your doctor, feel will help your overall health. The goals may include improving energy levels, supplementing a deficiency in your diet or promoting a healthy heart. The ritual of taking vitamins before you go to bed keeps things simple, but there are some considerations as to the best time you should take certain supplements.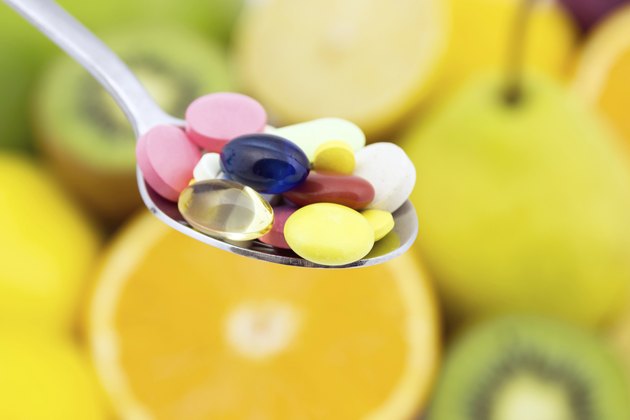 Vitamin Basics
Most vitamins are best taken with some sort of food to aid in the absorption of the supplement, according to Natasha Turner, N.D., of True Star Health. Taking vitamins throughout the day at different intervals also aids in maintaining proper levels of each supplement. Thus, taking vitamins in smaller dosages throughout the day provides optimal balance.
Bedtime Vitamins
Certain vitamins are best taken on an empty stomach, making bedtime an ideal time for consuming them. Calcium is one such supplement, and it even promotes better sleep since it is a natural muscle relaxant, according to Turner. Probiotics, green foods and herbal remedies are other supplements recommended prior to bedtime on an empty stomach. Vitamins B and C do well in acidic conditions. Both are water-soluble vitamins that can be taken at bedtime.
Non-Bedtime Vitamins
Fat-soluble vitamins such as A, D, E and K are more readily absorbed when there is a fatty food source in the stomach to aid in the breakdown of the vitamins for absorption. These vitamins are not good bedtime supplement candidates. If you do want to take them at bedtime, eating a fatty snack such as a piece of cheese may help provide the fat source to aid in digestion. This method would be counter-effective if you are taking other vitamins at the same time that absorb more readily on an empty stomach. Vitamin D absorption is also enhanced by the presence of calcium, so taking at least part of your calcium supplement with vitamin D can improve the effect of the vitamin. Take 500 mg of calcium at a time, becasue this amount is efficiently absorbed and, if you need more, take it in divided doses.
Medication Considerations
Medications and supplements may have opposing objectives, with one rendering the other ineffective. Review all medications and vitamin supplements with your doctor or pharmacist to prevent supplement opposition. H2 blockers deplete stomach acids, making water-soluble vitamins more difficult to take. Your doctor can help you create a time schedule to maximize the effectiveness of both.
All or Nothing
If you are taking vitamin supplements with no contraindications to any prescriptions and your choice is to take them all at night or not at all, you are not creating a problem by taking them all at once. However, Turner does recommend taking all pills with the largest meal of the day if you are going to only take them at one time. In the end, you will only affect the absorption of some of the vitamins, which means you are still getting some of the supplement, just not the ideal amount. Do be aware of over-supplementing. It is possible to take too much and have a toxic reaction, according to KidsHealth.org.