Nucleic acids are the compounds that make up nucleotide bases, the molecules that bind together to form DNA. Your genome, the collective term for all of your DNA, is made up of billions of nucleotide bases, creating specific sequences that code for thousands of genes. Nucleic acids in your food get broken down, and are then used as the building blocks for your own DNA. Nucleic acids are found in almost all cells, so they are present in almost all foods.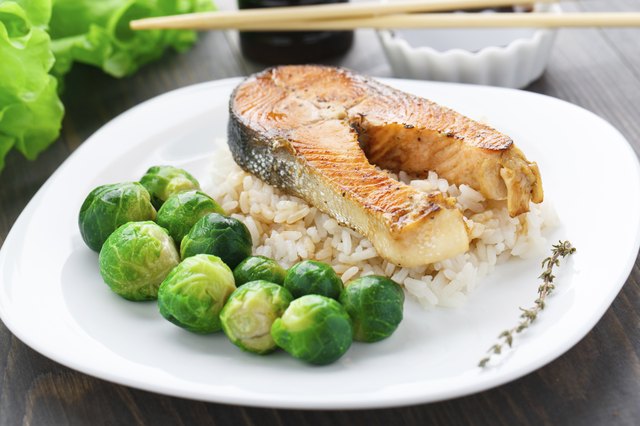 Fish
One type of food rich in nucleic acids is fish. Fish flesh is composed of a number of cells, each containing large amounts of nucleic acids. Fish is a great source of healthy proteins that act as building blocks for the human proteins in your own human cells and tissues. In addition, the flesh from many fishes, including salmon and tuna, provides omega-3 fatty acids. These healthy fats are involved in reducing high blood cholesterol, hypertension and diabetes, according to the University of Maryland Medical Center. Aim to eat fish a few times per week to provide a source of these healthy fatty acids, as well as a source of nucleic acids.
Fruits
Fruits are other sources of nucleic acids. Each cell within the fruit, including the skin, sweet flesh and the seeds, contain cells rich in nucleic acids. Fruits are also a great source of dietary fiber -- indigestible plant matter that helps you feel full, promotes digestive health and helps control your blood cholesterol levels, reports Colorado State University. Fruits are also a source of natural sugar, providing a source of glucose that can act as fuel for your muscle cells and your brain. Fruits also contain a range of vitamins and minerals to support your health. Aim for several servings of fruits weekly to receive the nutrients and nucleic acids needed to keep your body healthy.
Beans and Legumes
Beans and legumes are great sources of nucleic acids. In addition to their nucleic acid content, these foods provide a source of protein, helping you reach your daily recommended protein intake without having to ingest fatty animal proteins. Harvard University specifically highlights beans as a great source of lean protein, providing your body with nutrients without added unhealthy saturated fats. In addition to their protein content, beans and legumes also contain dietary fiber to promote digestive health. Add beans and legumes to your diet to help consume healthy proteins, as well as nucleic acids to help maintain healthy cells and tissues.