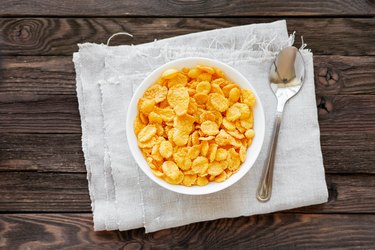 Kellogg's cereal is a popular brand offering many varieties of cereal. It's probably no surprise that the number of calories in a bowl of cereal varies greatly. Find out more about the calories and nutrients that your favorite Kellogg's cereals have to offer.
Tip
When you read the nutrition facts on a box of cereal, pay attention to how much cereal and milk are indicated as a serving. Cereal serving size can vary between brands and products. Also, the milk compared is often skim milk, so be aware that if you add a different type of milk, like 2 percent, you're adding a different number of calories and different nutrient loads.
Kellogg's Corn Flakes Calories
Kellogg's Corn Flakes is one of Kellogg's most recognized cereals. According to Kellogg's smart label, the calories in a bowl of corn flakes measuring 1 1/2 cups (42 grams) is 150.

This serving contains no fat or cholesterol and only 1 gram of dietary fiber. Kellogg's Corn Flakes also includes 300 milligrams of sodium and 4 grams of added sugars, which brings the total carbohydrate count in one serving up to 35 net grams.
These percentages change when you add milk to your cereal. Kellogg's also provides nutritional information for adding 3/4 cup of skim milk. With the same 1 1/2 cups of cereal, if you add skim milk, the calorie count in the bowl of corn flakes reaches 210. You'll also get about 10 additional grams of sugar and another 80 grams of sodium, which brings the total carbohydrate count to 45 grams and the total sodium load to 380 milligrams.
However, if you use 2 percent milk, the calorie count goes up even more. According to the U.S. Department of Agriculture, if you use 1 cup of 2 percent milk in your corn flakes, the total count reaches 272 calories. This also adds 12.3 grams of sugar and 115 milligrams of sodium, resulting in a total of 48.3 grams of carbohydrates and 415 milligrams of sodium.
You should also keep in mind that with 2 percent milk, you are adding in saturated fat. One cup of 2 percent milk will add 4.83 grams of total fat. But 2 percent milk, like skim milk, also adds more protein and calcium, along with a number of other nutrients.
What's in a Bowl?
Like many manufacturers, Kellogg's fortifies its cereals with various nutrients. An older research study published in September 2014 by Advances in Nutrition found that there are many potential benefits to breakfast cereal consumption. Among them is the assertion that most people who eat breakfast cereal regularly, with milk, often get enough of the nutrients they need.
For example, according to Kellogg's, one serving of Kellogg's Corn Flakes contains 5.2 milligrams of vitamin D (about 25 percent of the recommended daily dose). Vitamin D is a nutrient that helps the body utilize calcium. The same serving of cereal also contains 12 milligrams of iron, which is 60 percent of the daily recommended amount, as well as 60 milligrams of potassium.
The number of calories in a bowl of cereal, as well as the fortified nutrients, varies between products. According to Kellogg's, Frosted Flakes' calorie count is 140 for 1 cup of cereal. Frosted Flakes also contains 14 grams of added sugar per serving.
This cereal provides less of each of the fortifying nutrients as well, including iron (7.8 milligrams), vitamin D (2 milligrams) and potassium (40 milligrams). These added sugars are widely recognized by nutritionists to be bad for your health and should be avoided to the extent possible, according to Harvard Health Publishing.
The calories in Rice Krispies with whole milk is 150 for the cereal and an additional 149 for the milk. The total calorie count for 1 1/2 cups of Rice Krispies and 1 cup of whole milk would be 299. Rice Krispies, like Corn Flakes, has 4 grams of added sugars per serving and reasonable levels of added vitamins and minerals.
Keep in mind that some products come in more than one variety. The calories and nutrients listed are based on the basic version of each brand. Other varieties of the same product may vary, depending on what's been added to the basic cereal that increases calories, complex carbohydrates and levels of nutrients. Be sure to read the nutrition label for more information to make sure your cereal fits within your own dietary guidelines.