Hunger is every dieter's worst nightmare. When your calories are lower, it can sometimes seem like you have a never-ending appetite, which many foods just can't suppress. One thing that may help, however, is a protein shake. Though it may not seem like much, certain components of a protein shake make it particularly useful for filling you up.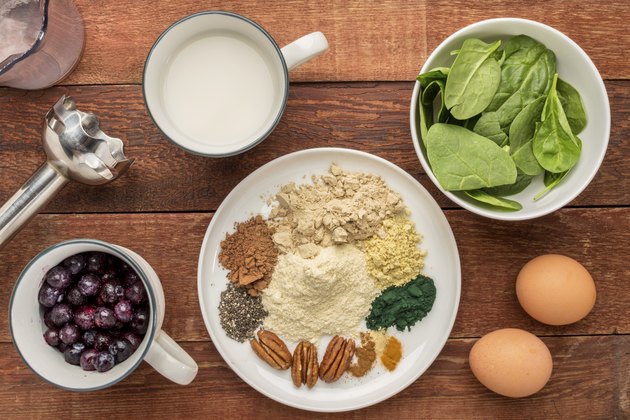 Protein and Hunger
When you're feeling hungry, a protein-packed meal or snack may be the best cure. A study published in a 2006 edition of the journal "Cell Metabolism" found that protein-dense foods caused the greatest release in peptide YY -- a hormone that helps you to feel full and satiated. Therefore, something that contains a high amount of protein, such as a protein shake, may be the answer to hunger pangs.
Basic Shakes
A typical protein shake is composed predominantly of protein, with little in the way of fat and carbohydrate. Dairy-based proteins, such as whey and casein, are a byproduct of cheese making, while plant-based proteins such as soy, hemp, pea and brown rice are derived from plants. While the nutrient content may differ depending on brand and type, dietitian Cassie Bjork suggests picking a protein shake that has minimal sweeteners, fillers and ingredients that you've never heard of.
Going All the Whey
While the protein powder you pick depends largely on dietary preferences, your best bet may be to go with whey protein. A study published in a 2010 edition of "The American Journal of Clinical Nutrition" found that whey protein ingested before a meal reduced food intake at the meal and also lowered post-meal blood glucose and insulin levels.
Shakes Made Super
Drinking a shake made with protein powder and water may help suppress your appetite, but if you want something a little more filling, consider turning your shake into a smoothie. You'll need a blender, protein powder, ice and other ingredients. Good choices include fruits and vegetables such as bananas, berries and spinach, which add fiber and may increase satiety. Foods with a little more fat, such as nuts and coconut, may also help fill you up and make your shake even more satiating.