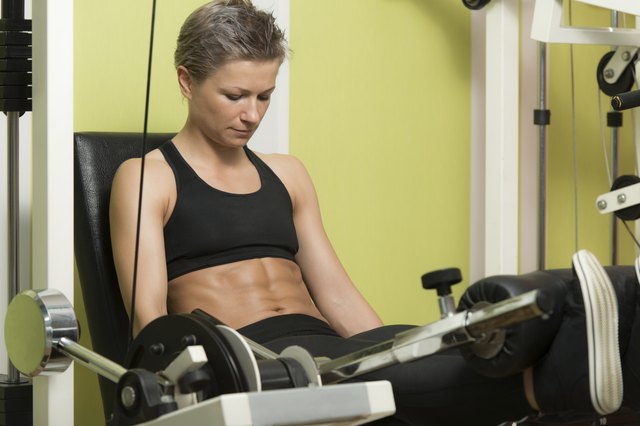 A leg-extension machine isolates and strengthens the muscles on the front of your upper leg, your quadriceps. Proper form, weight and technique are required in order to avoid injury on this machine. Even using those precautions, knee injuries may still occur due to genetic weakening of cartilage, tendons or ligaments. Other injuries may result from over-training your quadriceps or through repetitive use and not varying your exercise routine.
Quadriceps
The quadriceps are a large muscle group that make up the front of your upper leg. The muscle group is referred to with the word "quads" because four muscles comprise this group. The quads are made up of the rectus femoris, vastus lateralis, vastus intermedius and vastus medialis muscles. All of these muscles are attached to your knee cap in various angles and are used during knee extension.
Muscle Strain
Muscular strain is one of the injuries that may occur from using a leg-extension machine. A strain can be a slight or large tear in a muscle. Performing a leg extension with a heavy amount of weight could lead to a pull or tear in your quadriceps. If you feel any sharp muscular pain or discomfort while using a leg extension machine, stop immediately. Another cause of muscular strain is improper warm-up. To avoid straining your quadriceps, a suggested warm-up is walking or jogging for five to 10 minutes prior to performing leg-strengthening exercises.
Knee Cartilage
An injury to the cartilage of your knee from using a leg-extension machine may be caused by overuse. Your cartilage acts as a shock absorber underneath your knee cap. As you move your knee, cartilage helps to keep this movement smooth between the knee and the leg bones. Overuse, such as repetitive leg extension movements, can result in inflammation of the cartilage or break down of the cartilage and then your first indicator: pain. A leg extension is an effective, leg-strengthening exercise, but in order to avoid overuse injury, rotate this exercise with others, such as lunges or leg presses.
Tendons
Your patella tendon connects your knee cap to your shin. This tendon may become inflamed or begin to form small tears as a result of lifting heavy loads on a leg-extension machine. As you make strength gains, your tendons also respond with strength to increasing resistance loads. To avoid tendon injury, increase your resistance gradually and over weekly time periods instead of increasing your weights with every strengthening session.
Technique
Proper leg-extension form and technique will help reduce your chance of injury. When you sit in a leg-extension machine, check your alignment to position your hips and knees at a 90-degree angle. Your back should be supported by the back pad. The leg pad should be positioned above your ankles, which gives your feet freedom in movement. Perform the exercise by holding onto the handles, exhaling, pointing your toes toward the ceiling and straightening your legs. Always keep a slight bend in your knees. To release, inhale and slowly lower the weight to start position, but do not allow the weight plates to touch until you finish your final repetition.