The 2008 Physical Activity Guidelines for Americans suggest adults lift weights – or perform other forms of strength-training exercise – involving all major muscle groups at least two times each week to reap health benefits. Fortunately, you don't have to lift heavy weights to gain these health benefits from weight lifting.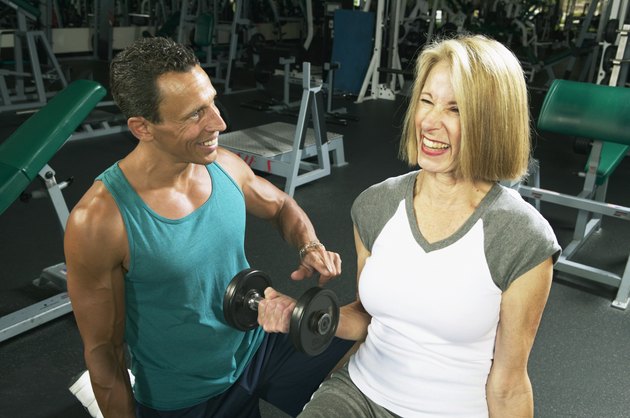 Low Injury Risks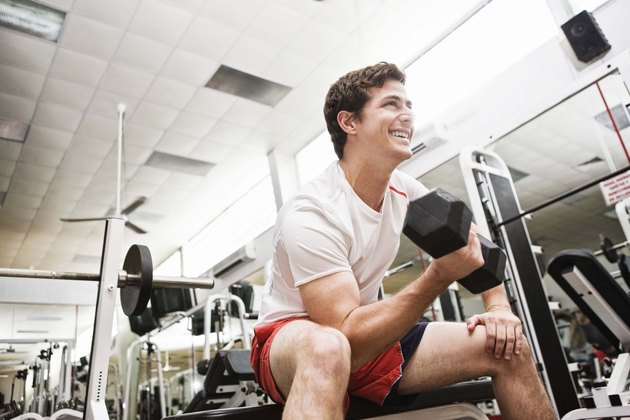 In general, lifting light weights has a lower risk for injury than heavier lifting. According to a study published in 2010 in the "American Journal of Sports Medicine," the most common cause of weight-lifting injuries in the emergency room is from exercisers dropping weights onto themselves. Less acute, but still painful or disabling, injuries occur from lifting too heavy or from incorrect form. The lighter the weight you're lifting, the less likelihood of injury.
Improved Endurance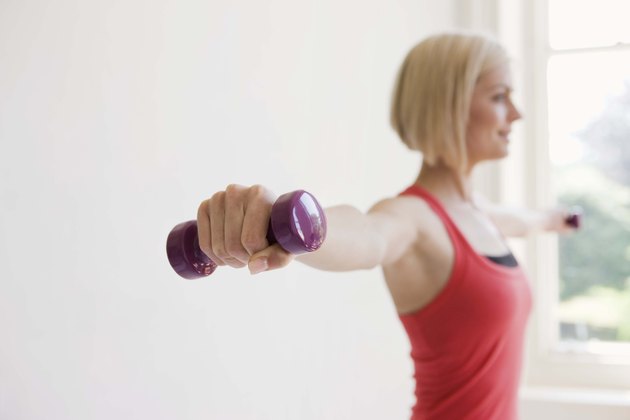 Lifting lighter weights often means you're able to perform more repetitions for each exercise you complete. The American College of Sports Medicine notes that while completing eight to 12 repetitions – often performed using heavier weights -- helps improve strength and power, doing 15 to 20 reps using lighter weights helps improve your muscular endurance -- which can improve your overall endurance during weight-training or cardiovascular workouts.
Increased Strength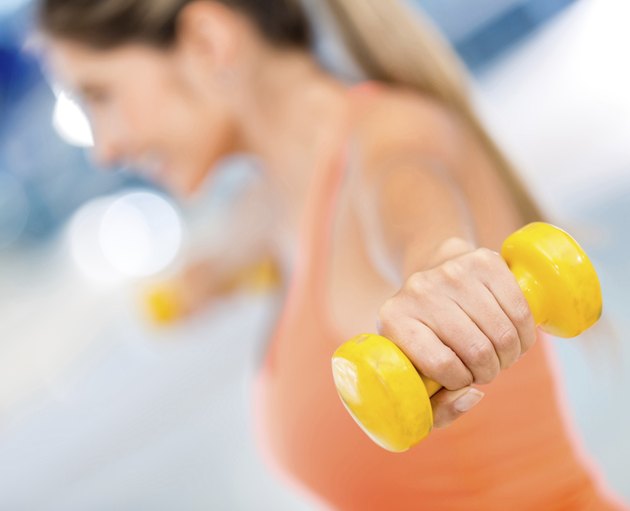 Although you may not acquire as much lean muscle mass as you would lifting heavier weights, you'll likely still boost your strength -- and build or maintain lean body mass -- by lifting light weights. In fact, using smaller weights is often a viable option for older adults who want to reduce the loss of lean muscle mass associated with aging – while maintaining a low risk for injury. A 2012 study published in the "Journal of Applied Physiology" reports that resistance training is important to help middle-aged, overweight or obese adults boost lean muscle mass.
Toned Look
A potential benefit of performing more repetitions using light weights -- instead of heavy weights -- is you likely won't create a bulky, muscular look but instead a lean, toned physique, especially if you perform cardiovascular exercise on a regular basis. However, if you're easily able to complete more than 20 repetitions using light weight, it may be time to slightly increase the amount of weight you're lifting.