Resistance bands or tubes are named because they provide a resistance when you pull on them, which can tone and strengthen your muscles. Strength training is an essential component of your exercise routine and you can use resistance bands to get a full-body workout from the comfort of your home. Consult your physician before starting a new exercise regimen.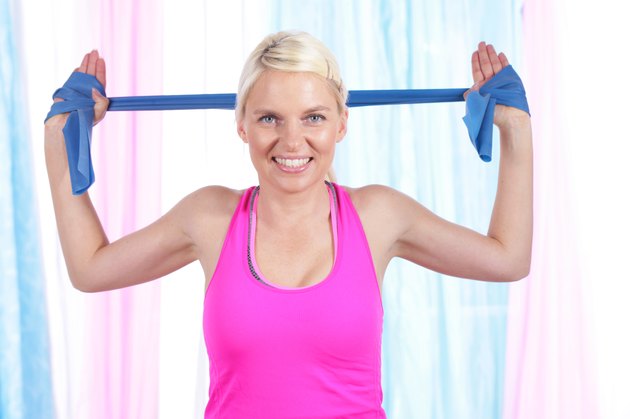 Benefits of Strength Training
Strength training will help you build lean muscle, which can make you stronger, more toned and also keep you from losing muscle mass as you age. By using resistance bands to get stronger, you can also reduce your injury risk while doing other exercises and increase your overall stamina. Strength-training exercises also increase your metabolism, which can help you lose or maintain weight.
Frequency and Reps
Exercises that strengthen your muscles should be performed at least twice a week. In every session, include eight to 10 exercises that work each major muscle group and use a resistance band that leaves your muscles feeling tired after 12 to 15 repetitions. If you are new to strength training, do one set of each exercise and work your way up to two or three after you have been using resistance bands for about three months. Consult a personal trainer if you are unsure how to use a resistance band or need help coming up with the right exercises.
Types of Exercise
Resistance bands can be used for a variety of exercises and can strengthen all the areas of your body, such as your triceps, deltoids, pectorals, abdominals, quadriceps and hamstrings. For example, you can strengthen your lower body by performing squats with the bands. Begin by standing in the center of the band or tube with your feet shoulder-width apart. Hold the handles or ends by your shoulders and bend down like you are going to sit in a chair, pulling in your abs and keeping your back flat. Stand up and repeat until you have finished the set.
Safety Precautions
Before you work out with resistance bands, warm up your muscles by walking and stretching for five to 10 minutes to avoid injury, and then repeat this at the end to cool down. Always follow the safety guidelines that come with the bands to avoid injury. Do not use this equipment on abrasive surfaces like cement or asphalt, which can tear the band or cause it to form holes. Wear athletic shoes, and do the exercises slowly and with control, making sure to maintain proper posture.