If you've ever been to a health club or performed your own fitness routine, you've probably done the lunge one or two times. Lunging is a calisthenic activity that can also be classified as a resistance training exercise. As you move into and out of a lunge, your body weight becomes the force you're pressing against.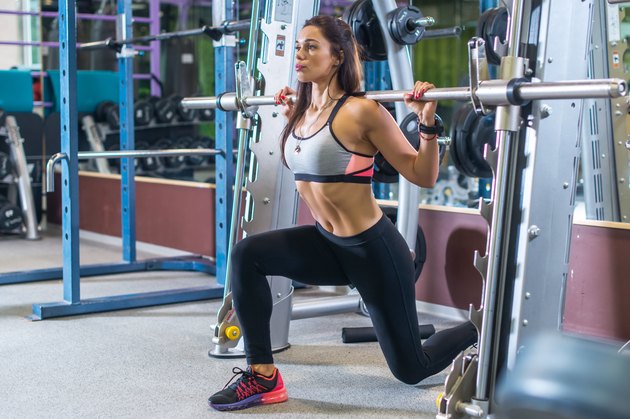 Lunges allow you to elevate your heart rate while also targeting several muscle groups simultaneously. Targeted muscles include the glutes in your hips and butt, along with the hamstrings and quadriceps in your thighs. The calf muscles in your lower legs, your abdominal muscles and your back muscles act as stabilizers during this exercise.
Use the Proper Technique
Performing each lunge with the proper technique ensures that your muscles benefit, and you reduce risk of injury.
How-To: Stand up with your legs together and your arms at your sides. Step 2 to 3 feet forward with your right leg. Bend both of your knees to lower yourself down into a lunge. Each knee should create a 90-degree angle.
Keep your front knee directly over your ankle and behind your toes to avoid unnecessary strain on your knee. Push off with your right leg and return to the starting position. Repeat with your left foot stepping forward.
Lunge Variations
Variations of the basic lunge help increase the challenge of your workouts and provide you with better results. Instead of stepping forward with your leading foot, do a glute-activation lunge by crossing your right leg in front of your left, lunging and then twisting your torso to the right. Perform an equal number of reps to both sides.
Side lunges, in which you step to the side and bend into a lunge, work not only the same muscles of a regular lunge, but also the inner thighs. You can also hold a dumbbell in each hand to increase the resistance during each lunge.