Your body requires protein for survival. Adult women need about 46 grams of protein each day and men should aim for 56 grams, according to the Centers for Disease Control and Prevention. However, eating too much protein can cause weight gain, dehydration and calcium loss, according to the American Council on Exercise. If you're concerned about getting too much protein, learn which foods are free from the nutrient and incorporate them into your diet.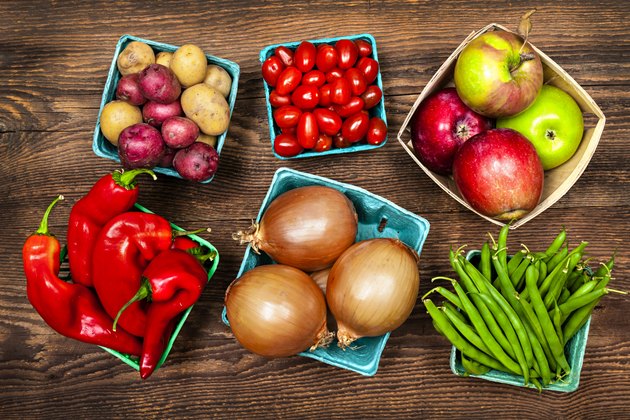 Fruits
Most fruits contain either no protein or a negligible amount of the nutrient. A whole kiwifruit, for example, contains 0.8 gram of protein. One whole raw pear contains 0.6 gram and a cup of raw pineapple contains 0.8 gram. Fruit leathers, dried fruits and fruit juices are also low in protein. A cup of apple juice, for example, contains 0.25 gram of protein and cranberry juice contains no protein. However, keep an eye on the sugar content of dried fruit and juice, as too much sugar is more of a health concern than protein.
Vegetables
Adding vegetables to your diet is a good way to get more fiber and potassium, and many varieties contain little, if any, protein. A stalk of celery contains 0.28 gram of protein and one whole carrot contains just 0.67 gram. A cup of green leaf lettuce contains 0.5 gram of protein and an ounce of avocado has 0.56 gram. Iceberg lettuce, kelp, garlic, beets, onions and jalapeno peppers are a few more vegetables that contain very little protein.
Sauces and Condiments
Salad dressings, cooking oils, margarine, vinegar and salt are examples of sauces and condiments that don't contain any protein. Maple syrup doesn't supply any protein, either, and a tablespoon of hot sauce supplies just 0.02 gram of protein. Horseradish, pickle relish, ketchup, barbecue sauce and butter are additional examples of sauces and condiments that only supply trace amounts of protein.
Additional Protein-Free Foods
Most sugar-sweetened beverages, such as soda and fruit-flavored drinks, don't contain any protein; however, that doesn't make them good choices for your diet. Coffee, tea and alcoholic drinks aren't good sources of protein, either. Most spices, such as garlic powder and parsley, contain less than 0.5 gram of protein per serving.