Increasing your level of activity can help you lose unwanted fat. While strenuous exercise, such as running and weightlifting may burn calories quicker than walking, regular walks can help you drop your excess pounds. Whether you want to lose five pounds or 75 pounds, walking can help you meet your goals.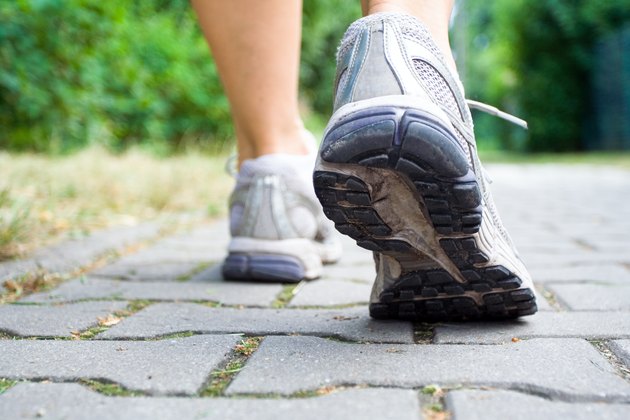 Weight Loss Facts
In order to lose weight, you must burn more calories than you consume. While diet alone can create a calorie deficit, exercise can improve your chances of losing weight, as well as increase your level of fitness. In order to lose one pound of fat, you must burn 3,500 more calories than you consume. Cutting back on calories helps speed up your weight loss. Reduce your daily intake of calories by about 500 calories each day, while increasing your level of activities to burn an additional 500 calories daily to lose 2 pounds a week.
Walking for Exercise
Physical activities like walking encourage your body to burn more calories than you would sitting or driving to your destination. During dieting, physical exercise helps ensure that your body uses stored fat, rather than muscle tissue, for energy. Walking is a good way for many individuals to exercise regularly, especially those who have injuries that limit their abilities to perform more intense exercises. Consult your doctor before beginning any exercise or diet program.
Walking at a Brisk Pace
The number amount of miles you need to walk to burn 75 pounds depends on a variety of factors, such as your weight, the terrain you walk on and your walking speed. The larger you are, the more calories you will expend during your workout. On average, a person who weighs 155 pounds burns approximately 310 calories per hour when walking 3.5 miles per hour. A 155-pound person can expect to lose one pound for every 11.3 miles walked. At that rate, you'd have to walk a total of 847 miles to lose 75 pounds, or 3.5 miles a day for 242 days.
Speed It Up
Increasing your speed to a speed walking rate of 4.5 miles per hour increases your calories burned to 372 per hour, or 1 pound for every 9.4 miles walked. To lose 75 pounds would require walking 705 miles, or 4.5 miles a day for 157 days. Increasing your walking time to two hours or 9 miles a day, would reduce the time spent walking to 78.5 days. However, trying to lose 75 pounds in 78.5 days is a difficult and perhaps unrealistic goal. A healthy weight loss of 1 to 2 pounds per week is an achievable and realistic goal for the average person.