Brisk walking is not strolling or even walking at a moderate pace. It's walking faster than both but not as fast as a full run. There are many benefits to brisk walking. According to the February 2013 issue of the American Heart Association journal "Arteriosclerosis, Thrombosis, and Vascular Biology," walking and running both help reduce your risk of high blood pressure, high cholesterol and diabetes. Walking, however, is more accessible to a larger percentage of people.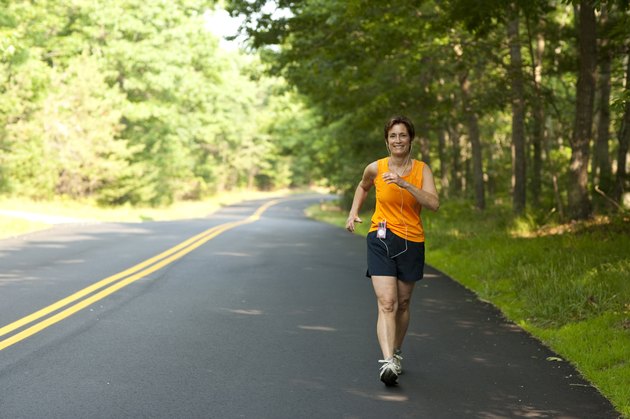 How to Tell If You Are Moving Briskly
Getting a brisk walk going depends on the person, but it typically requires you to move at least 3 mph. You should feel as if you are exercising. You should experience growing warmth and maybe sweat, feel your heart rate slightly elevate and begin breathing heavier. You should still be able to talk with someone you might be walking with, but you should not be able to sing.
How to Brisk Walk
The proper form for brisk walking is to stand up straight, bend your elbows and relax your shoulders. Look straight ahead and start walking, heal to toe. Move your arms forward and back as you walk. Relax your hands instead of clenching your fists. Try walking on soft surfaces because you use more energy doing so.