Whether you're looking to ramp up your exercise intensity or just want to switch things up, interval training offers an intense challenge. Interval training occurs when you raise and lower the intensity of your workout. Usually, you base it around different time intervals. For example, you might pedal as fast as possible for 30 seconds and then coast, barely pushing the pedals, for 30 seconds afterward.
To do interval training on a stationary bike, you need to figure out how long you want to sprint for, how long you want to rest and how intense you want your sprint to be.
The way you structure your interval training workout depends on how fit you are and what you want to accomplish. It's a very taxing way to train because you're condensing a lot of work into a little time. If you're just beginning interval training, err on the side of caution.
Choosing Work and Rest Times
One of the easiest time intervals to try is 10 seconds of sprinting, followed by 20 seconds of rest. While it's still an intense workout, you're getting twice as much rest time as compared to work, which helps you recover.
If that's too easy, try doing a 30-second sprint, followed by a 30-second rest. That way your work and rest times are even. You might not be able to push as hard for 30 seconds as you can for 10 but you'll do three times the amount of work. If you're an endurance athlete you can even do one-minute on and one off, which is still an equal amount of work and rest time.
Tabata Workout
One of the most famous interval workouts is called Tabata, named after Japanese speed skating coach, Izumi Tabata, who did a study on the workout and found it effective at improving the fitness level of his skaters.
The workout is done on your stationary bike. Do 20 seconds of sprinting, followed by 10 seconds of rest. Repeat sprinting and resting until 4 minutes have gone by. Then, you can rest and recover.
While 4minutes may not sound like a long time, when you're pedaling hard and have barely any time for a break, 4 minutes is plenty.
How Intense Should It Be?
The key to interval training is in the intensity. Steady-state cardio, such as distance running, is the other form of cardio. In steady-state training you aren't increasing or decreasing your intensity.
You pace yourself so that you can last for the amount of time or distance that you want to exercise. For example, if you want to run 8 miles, you would run at one speed and try to maintain that speed the whole time.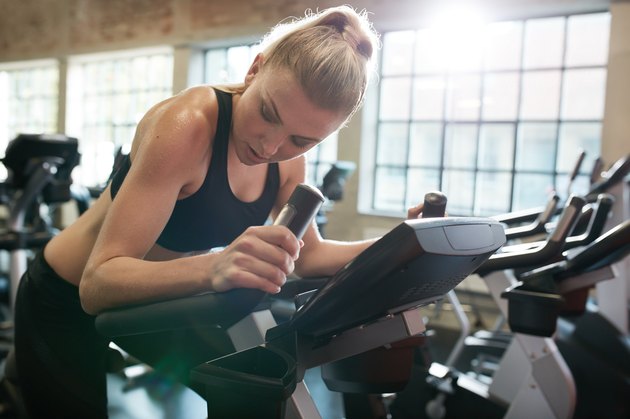 With interval training, you want to be as intense as possible. Pedal your heart out but keep the time for each set short. If you sprint for 20 to 30 seconds, it's enough time to exhaust yourself without slowing down too much.
The number of sprint and rest intervals that you do throughout your workout shouldn't be very high either. There are eight sprints total in a Tabata workout. You don't need to do many more sprints than that, no matter what time interval you choose. The idea is to keep the time of the workout short and keep increasing the intensity.
Measuring Intensity
You can measure your intensity on a stationary bike by counting the number of times that you pedal. Pick a foot and count one rep each time that foot hits the bottom of a cycle. If you want to make your workouts more intense, get more revolutions finished in a given amount of time.
Another way to monitor your intensity is with a heart rate monitor. You can find your maximum heart rate by calculating 220 minus your age. That number is about where your ceiling for beats per minute should be.
When to Back Off
When you do your cycling interval workout, you need to know when to back off the intensity as much as you need to know when to step it up. Because interval training is so intense, it can drain your body very quickly.
Stop your interval training workout if you feel dizzy or nauseated. If you're pushing yourself to the brink, these symptoms will come on very suddenly. For your own safety, don't try to push through them.