Your pelvic joints are one of the two most movable joints in your body because the ball and socket joints allow your legs to move in different directions. Stretching your pelvic joints and muscles prevents hip stiffness and back pain, according to physical therapist Gray Cook, author of "Movement." You should stretch your pelvic muscles first before stretching other muscle groups.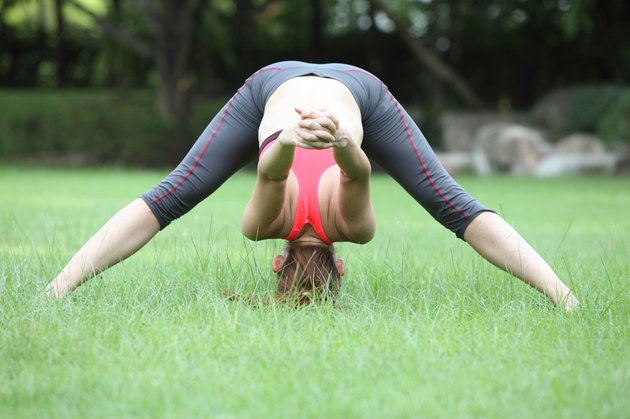 Types of Stretches
Dynamic stretching involves moving your joints and muscles to their full range of motion, while static stretching involves stretching one muscle or joint in one direction and holding that stretch for a time duration, according to Coach Vern Gambetta, author of "Athletic Development." He suggests that you perform dynamic stretching before your workout to stimulate muscles and increase body temperature. Perform static stretching after your workout to decrease muscle fatigue and relax your muscles.
Standing Tabletop Stretch
Place the outer part of your left leg on top of a table or similar platform that reaches to your hip. Keep your standing right leg straight and your buttocks tight to keep your torso upright. You should feel a stretch in your left outer hip. To increase the stretch, lean your torso forward at your pelvis. Hold the stretch for five to six deep breaths for each side.
Wall Straight Leg Raise
Lie on the ground on your back and place your right leg perpendicular to the floor by propping it up against a doorjamb or the edge of a wall. Keep your left leg on the ground near the center of your body and flex both feet toward your face. You should feel a stretch in your right hip down to your calves. Slowly raise your left leg up until it is parallel to your right leg. Hold the position for two deep breaths, and lower it back down. Perform five to six repetitions on each side.
Wall Groin Stretch
Sit with your head, shoulders and back against a wall. Bring the soles of your feet together. You should feel a stretch in your groin. Rest your hands on your knees with your palms up and push lightly against the wall with the back of your upper arms and head. Hold the stretch for five to six deep breaths, and then bring your knees up together and your feet flat on the floor. Repeat the stretch two more times.