Pushups and chinups are body-weight exercises which have lost popularity due to the prevalence of resistance equipment that isolate individual muscles. Pushups and chinups can help you increase strength and improve muscle tone and definition, and can play a role in helping you get big or build muscle.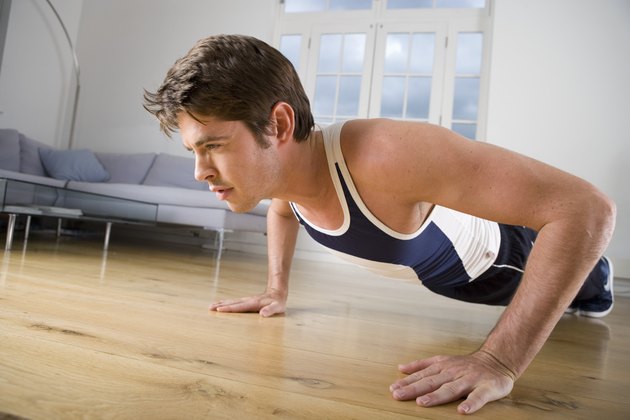 Features
Pushing and pulling are the two basic movement patterns of your body. Pushups are by definition a pushing action and chinups a pulling action. Although both exercises can be used to target specific muscles, the core muscles of the hips, lower back and abdominals are also actively used to stabilize your body when you do pushups and chinups.
Considerations
Pushups and chinups can help you get big and build muscle if they are part of a free-weight and resistance-training program. According to Stew Smith of Military.com, pushups and chinups are high repetition exercises where you push yourself until you can do no more reps, to improve your stamina, muscular endurance and muscle definition.
Chest and Arms
Pushups can be termed a compound movement as they involve use of two joints, the shoulders and elbows, and primarily target the chest, triceps and shoulder muscles. To help build up your muscles, do pushups about two to three days per week. Muscle growth occurs during rest, so ensure you get enough rest when not exercising.
Back and Arms
Chinups or pullups are a compound movement, using more than one muscle group. They involve use of the shoulder and elbow joints and primarily target the upper back, rear deltoids and bicep muscles. According to Body Results, chin-ups are particularly hard to do because they involve moving your whole body weight with the smaller muscles of your upper body. To build muscle, perform chinups two to three days per week, ensuring enough rest between workouts.
Progressive Overload
To get big or build muscle, use the principle of progressive overload. This means trying to perform more pushups or chinups each time you work out. Use a weighted vest for added resistance if you can do more than 15 pullups or 30 pushups. Perform super-sets to increase the intensity of your workout. For example, do a set of pushups with maximum reps, followed immediately by a set of pullups with maximum reps. Rest for two minutes then repeat the sequence.