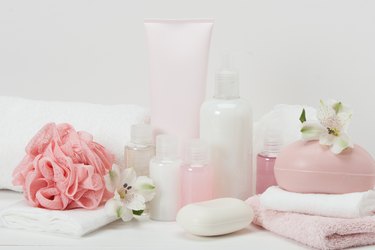 An ingredient in personal hygiene products since the 1940s, sodium lauryl sulfate (SLS) is a surfactant. As a surfactant, SLS increases the cleaning and foaming action of shampoos, bubble bath, body washes and toothpaste. The SLS Material Safety Data Sheet, published by the University of Maryland, shows that this chemical is an eye, skin and respiratory tract irritant. Researchers at the University of California examined the effects of SLS on human skin and reported significant irritation. The article, published in 2005 in the journal "Contact Dermatitis," found that SLS induced temporary redness and dryness of the skin at concentrations as low as 0.025 percent. Sodium cocosulfate, made from coconut oil, can be used as a replacement for SLS in your beauty product recipes.
Step 1
Create a moisturizing body wash with a creamy lather by using sodium cocosulfate. Replace SLS with sodium cocosulfate using an ingredient ratio of 7 percent sodium cocosulfate. In other words, the amount of sodium cocosulfate used will equal 7 percent of the total weight of all the ingredients.
Step 2
Combine disodium lauryl sulfosuccinate with sodium cocosulfate to create a shaving cream free of SLS. This formulation uses ingredient ratio of 6 percent sodium cocosulfate and 52 percent disodium lauryl sulfosuccinate by weight. This shaving cream has a creamy consistency and is perfect for tube dispensing.
Step 3
Formulate a toothpaste free of SLS by using sodium cocosulfate as the main foaming and cleaning agent. Replace SLS with sodium cocosulfate using an ingredient ratio of 0.6 percent sodium cocosulfate by total weight.
Step 4
Produce visually clear, SLS-free soap by combining sodium cocosulfate with propylene glycol, cocamidopropyl betaine and an amphoteric, such as sodium cocoamphoacetate. Used in combination, these ingredients will allow the normally cloudy sodium cocosulfate to produce a clear product.
Things You'll Need
Sodium cocosulfate

Ingredient weight scale