When it comes to weight loss, there's no one size fits all fix. It's simply a matter of figuring out what strategy works best for helping you reduce your calorie intake. Fasting one day a week can help you lose weight if you're not overdoing it on the other six days. But like any fad diet, this may not provide lasting results. Consult your health care practitioner before starting any weight-loss diet.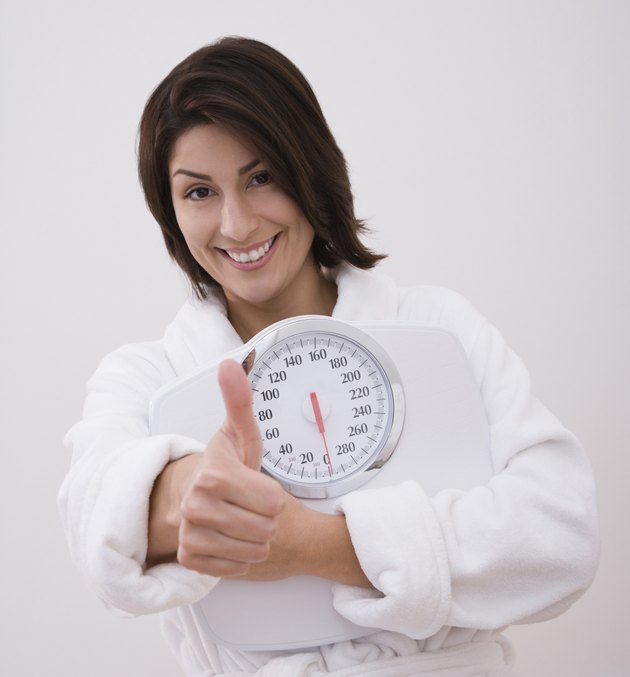 Diet Specifics
Fasting one day a week means exactly that. One day a week you consume very few calories, filling up on calorie-free beverages such as water, coffee and tea, as well as chewing on sugar-free gum. On the other six days of the week you are allowed to eat whatever you want. There are no food restrictions on this type of diet and no need to count calories on the days you eat normally.
What the Research Says
Intermittent fasting may help you lose weight. A study by Leonie K Heilbronn and others published in the January 2005 issue of The American Journal of Clinical Nutrition found that fasting every other day helped a group of nonobese men and women lose an average of 2.5 percent of their body weight over a three week period. However, it's important to note that fasting every other day compared to just once a week can make a significant difference in overall caloric intake, which may explain some of the weight loss recorded in the study.
Diet Pitfalls
The primary problem with any fast, even if it's just one day a week, is hunger on the days you fast, which may make it difficult for you to follow the diet long term. In fact, hunger was the primary complaint from the participants in The American Journal of Clinical Nutrition study, and the researchers suggested a small meal on fasting days. Also, when you resume your normal diet the next day, you may overeat, negating any caloric deficit you created on your fast day.
Importance of Balanced Intake
Losing weight and keeping it off is a struggle for most people. The National Weight Control Registry, which includes people who have lost weight and kept it off, has compiled a list of common strategies that have helped them with their success. This includes regular exercise, consistently eating fewer calories, watching less TV and eating more fruits and vegetables and less sugar and fast food.