The SI joint, or sacroilial joint, is located between your sacrum and ilium, which is the middle bone of your pelvis below the sacrum. It functions as a shock absorber and helps stabilize your body during movement. Therefore, the SI joint provides little movement in flexion and extension of your pelvis and lower spine. However, you can stretch the tissues and muscles around the joint and adjacent areas to prevent a locked SI joint which can cause back pain.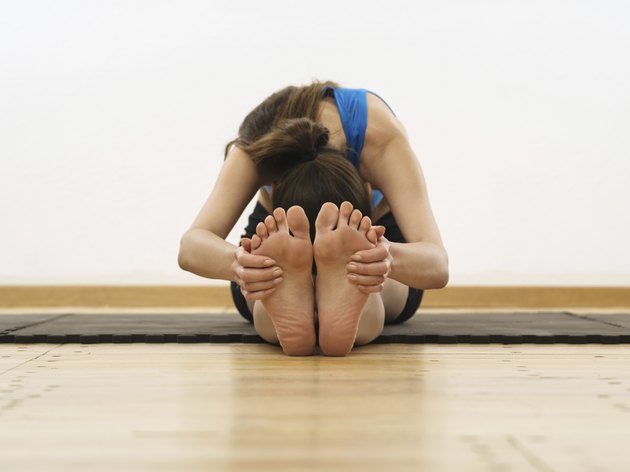 Characteristics
You should perform SI joint stretches from the ground to place the least amount of pressure on your spine before progressing to a kneeling and standing position, according to physical therapist Ron Miller of Spine-Health. Since the SI joint primarily moves in the sagittal plane, or front and back movement, the stretches should correspond to the joint's movement direction. You can also stretch other muscles that are near the SI joint.
Supine Knee to Chest Raise
Lie on your back with both feet flat on the ground and your legs bent. Place your arms out to your sides. Bring your right knee toward your ribs and chest without moving your pelvis. Hold the position for one deep breath and then bring your foot back to the start position. Perform eight to 10 repetitions per leg.
Lumbar Rotation
Lie on the ground with your knees and feet together with your arms by your sides. Lift your feet off the ground. Rotate slightly to your left and right for 10 rotations for two to three sets. Keep your knees together at all times.
Toe Touch Sequence
Place the balls of your feet on a half-foam roll and your heels on the ground. Raise both arms above your head and exhale as you bend over to touch your toes. Hold the stretch for three deep breaths. After you have slowly stood back up, step back with your left leg and push your pelvis forward slightly. Bend your torso back a little while you keep your arms above your head. Step forward to go back onto the foam roll and do the same with your right leg. Repeat the entire movement pattern five to 10 times.