Your body requires inorganic substances called minerals to function properly. Minerals needed in larger amounts, such as calcium, magnesium and potassium, are considered to be macrominerals, while minerals required in minute quantities are known as trace elements, or trace minerals. Trace minerals include copper, iodine, iron, manganese, chromium and zinc. Tiny amounts of these minerals help turn food into energy, assist with growth, carry oxygen to cells and build your immune system. Eating a wide variety of foods should supply your body with an adequate amount of trace minerals. Due to possible side effects, trace mineral supplements should only by prescribed by your doctor.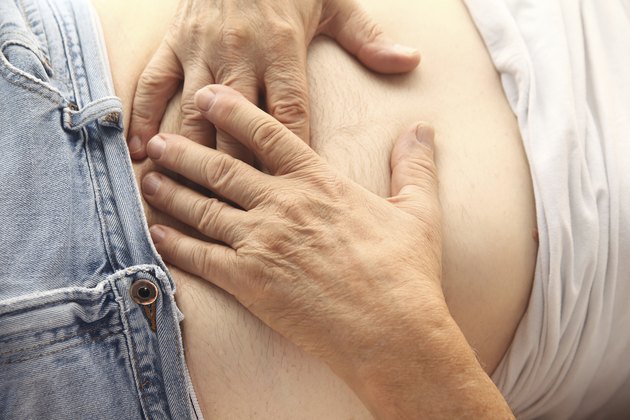 Monitoring Digestive Side Effects
Because trace mineral supplements begin being absorbed into your body via the digestive system, your digestive system is the first place that side effects begin to occur. As trace minerals start approaching tolerable upper intake levels, such as 40 milligrams per day for zinc or 10 milligrams per day for copper, gastric upset, nausea, vomiting, cramping and diarrhea may occur. Usually, discussing dietary changes with your doctor can eliminate this type of digestive upset.
Observing Other System Effects
Side effects caused by too much manganese supplementation can affect your neurological system. Manganese toxicity may cause psychiatric symptoms, tremors, muscle spasms and trouble walking. Too much zinc may decrease the effectiveness of your immune system, which makes you more susceptible to bacterial and viral infections. Also, high levels of zinc can cause headaches. If iodine levels become too high, thyroid gland and thyroid hormone problems can arise.
Altering Other Minerals
As one trace mineral becomes too high, it can affect the function of other important trace minerals in your body. For example, as iron supplementation causes levels to approach 45 milligrams per day, intestinal absorption of zinc can become impaired. Alternatively, high levels of zinc supplementation can lead to low copper levels and altered iron functionality.
Affecting Prescription Drugs
The use of trace mineral supplements with concurrent medications should be discussed with your doctor. Some medications affect trace mineral amounts in your body, while some trace mineral supplements can affect medication effectiveness. For example, zinc supplements may interfere with the effectiveness of tetracycline and quinolone antibiotics, while increased iron storage in your liver may occur when taking iron supplements along with allopurinol, a medicine for gout.
Examining Serious Side Effects
Iron supplements caused one-third of deaths from poisoning in children from 1983 to 1991. Since then, precautions have been implemented, but that statistic proves how seriously trace minerals can affect the human body. Serious side effects of high copper or iron levels can lead to organ failure and death, while high iodine increases your risk of thyroid papillary cancer. Therefore, trace mineral supplementation should only be prescribed and monitored by your doctor.