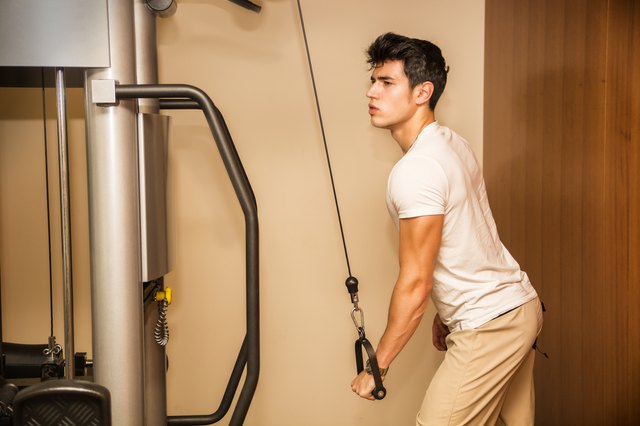 The only way to get bigger muscles is to use resistance training, but, with the numerous exercises available, you may not know which exercises you can do at home to increase the size of your chest. The muscles of your chest -- pectoralis major and pectoralis minor -- give you the ability to move your shoulders and arms away from your body. They also allow you to perform a pushing motion and give you the power to rotate your arms inward. Check with your doctor before starting any exercise program.
The Pushup
Begin the pushup exercise by lying down on your stomach on the floor or ground with your feet together and your palms on the ground at about shoulder-height. Straighten both arms and tighten the muscles of your core to form a straight line between your head, shoulders, hips, knees and ankles. Bend both arms at the same time and lower your body until your chest is about an inch off the floor, but not touching. Push with your arms and return to the start position and repeat. In order to build muscle mass you should work your muscles to exhaustion.
Declined Pushup
The declined pushup is performed much like the pushup listed above, but uses additional body weight resistance by elevating your feet above your shoulders. Place both feet on a step, box or stair to elevate your lower body and get in the push-up position with your hands on the ground at about shoulder level. Straighten both arms while keeping your body in a straight line, being sure that you don't stick your butt out. Bend both arms until your nose touches the floor and hold for a second before straightening your arms to return to the start position. Like the pushup listed above, you should try to do as many repetitions of this exercise as possible, or until you experience muscle exhaustion.
Barbell Bench Press
Lie down on a weight bench with a loaded barbell on the rack. Position your body so that your eyes are about level with the barbell and lift the weight off the rack. Bend both arms and lower the weight until it nearly touches your chest, being sure that you keep your lower back flat on the bench. Push the weight back up until your arms are straight, but be sure that you don't lock your elbows. To build muscle mass, focus on using a weight heavy enough that you can only perform between six and eight repetitions.
Dumbbell Fly
This exercise is most often performed using a pair of dumbbells in the gym, but if you don't have dumbbells you can use a couple of cans of food or even a piece of wood or a hammer. Anything that you can hold in one hand can be used to provide resistance for this exercise. Lie down on a bench or across a chair with your lower body supported by your bent knees and your upper back supported by the bench. Hold a dumbbell or other weight in each hand with your palms facing each other and your arms directly over your chest. Allow both arms to fall to the sides at the same time until your arms are parallel to the ground. Use the muscles of your chest to bring your arms back together while keeping your elbows straight throughout the movement. The most effective way to build chest muscle with this exercise is to use a weight heavy enough that six to eight repetitions leaves your muscles exhausted.