If you're a beer connoisseur and enjoy drinking golden lager with a spicy hop taste, you might find yourself sipping from a bottle or glass of Stella Artois. This Belgian beer is several hundred years old, but it's distributed by parent company Anheuser-Busch InBev, which is the largest brewer in the world. Stella Artois has two products with different nutritional profiles.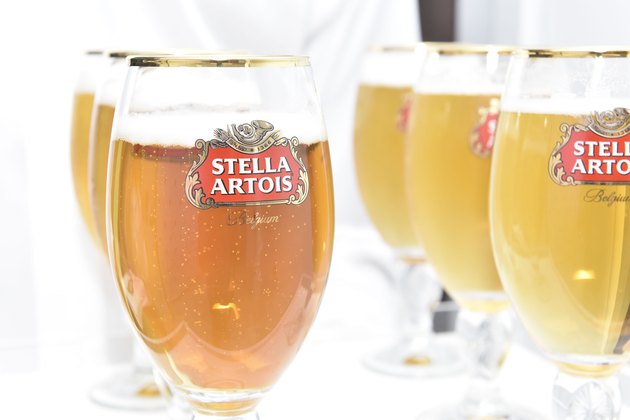 Stella Artois Nutrition
Because of Stella Artois's European heritage, the beer's volume appears in milliliters, rather than ounces as with American beers. Per 100 milliliters, which is equivalent to about 3.4 fluid ounces, Stella Artois has 43.4 calories and 3.6 grams of carbohydrates. The beer is commonly available in 330 milliliter bottles and cans. In this serving size, Stella Artois has 143.2 calories and 11.9 grams of carbs.
Stella Artois Cidre Nutrition
An alternative to traditional Stella Artois is Stella Artois Cidre, which is a cider made from apples. Stella Artois Cidre hit the market in May 2013. It is available in 12-ounce and 24-ounce bottles, providing 170 calories and 21 grams of carbs per 12 fluid ounces.
Alcohol Content
The alcohol content of Stella Artois and Stella Artois Cidre is similar. Stella Artois contains 5 percent alcohol by volume, while Stella Artois Cidre has 4.5 percent alcohol by volume. The amount of time the alcohol remains in your body depends on how much you drink. In general, however, it takes several hours before your body can completely metabolize even a small amount of alcohol.
Practice Moderation
It's often safe for you to enjoy a bottle of Stella Artois or Stella Artois Cidre without long-term effects, but keep your consumption of beer and other types of alcohol moderate. The Dietary Guidelines for Americans, 2010 advises that adult women should consume just one alcoholic drink per day, while men should drink no more than two per day. Excessive drinking can lead to liver damage, high blood pressure and unintended incidents such as falls or automobile accidents.