The primary types of clear and dark liquor are vodka, rum, gin, whiskey and tequila. Order a shot of 80-proof vodka, rum, gin, whiskey, or tequila and you will drink the same number of calories; Up your alcohol content, or 'proof,' and your calorie count goes up as well.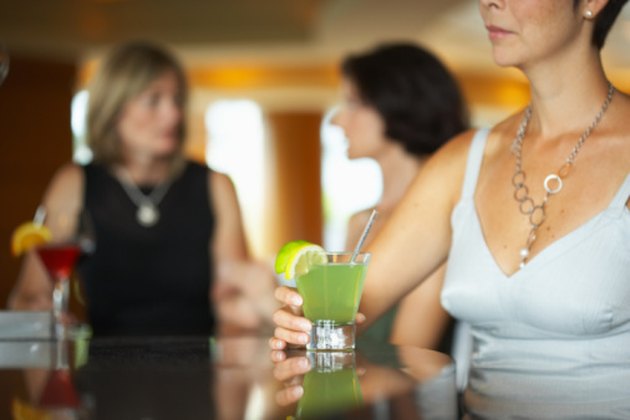 80 Proof
Unflavored 80 proof vodka, rum, gin, whiskey and tequila contains 40 percent alcohol and 64 calories per ounce. Add a 4-oz. pour of tonic water to any of these and you will add 112 calories. Use a fruit-infused liquor, like raspberry vodka, and you will add 5 calories per ounce. A 1.5-oz. jigger of liquor contains 97 calories, while a 750 ml. bottle contains 1,649 calories. You can keep an eye on your liquor calories by tracking your beverages on a calorie counter app.
90 Proof
Switching to 90 proof liquor adds 9 calories per ounce, totaling out at 73 calories. Do not assume that each drink at a bar contains the same amount of alcohol. A vodka tonic using 90 proof vodka will likely be the same size as an 80 proof cocktail, but it will likely cost more and it will contain more alcohol and calories.
100 Proof
Upgrading to 100 proof liquor means you will be drinking 50 percent alcohol and 82 calories per ounce. Some people think that if they drink top shelf liquors, they are less likely to get a hangover. A study at Brown University indicated that hangovers from clear liquors may be less intense than those from dark liquors. A high alcohol content may dehydrate you more, leading to the same hangover effect.