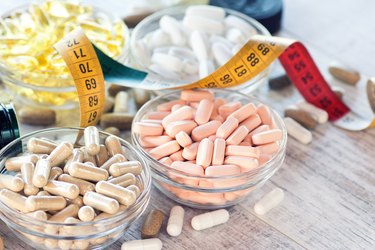 When it comes to losing weight, diet and exercise seem to work the best. But going this route takes time. And many people want results right away, which is why some turn to weight-loss drugs. Unfortunately, many of these pills, like Redotex, come with a long list of side effects.
Redotex Weight Loss Drug
Close to 50 percent of adults tried to lose weight in the last year, according to a survey completed in 2013 to 2016 from the Centers for Disease Control and Prevention. With so many people trying to lose weight at any given time, it comes as no surprise that some will turn to diet pills for an extra edge.
Redotex, also known as Mexican diet pills, is a weight loss drug manufactured and sold in Mexico, but banned by the U.S. Food and Drug Administration (FDA) for sale and use in the U.S. The Mexican diet pills are a mix of ingredients that includes a stimulant, a laxative, a thyroid hormone and a tranquilizer. This combination has led to Redotex being linked to a number of hazardous side effects including, an increase in blood pressure and heart rate, nausea, dizziness, diarrhea, and possibly, death.
It's difficult to find any current information about Redotex. Several online journals and publications such as The Associated Press point to the late 1980s, somewhere around 1987, as a time when the FDA started cracking down on the drug coming into the US from Mexico. The U.S. Customs ordered its checkpoints along the Mexican border to block imports of Redotex.
Dangers of Redotex
A September 2010 report published in Human and Experimental Toxicology found that over half of the calls about Redotex received by the Texas poison center from 2000-2008 came from the counties in Texas that border Mexico, which is where Redotex is manufactured and sold. And of these 34 calls, 11.8 percent resulted in minimal clinical effects and 47.1 unable to follow but judged to be potentially toxic.
A 2018 peer-reviewed, open-access case report originally published in Journal of Case Reports and Medical Images in Pediatrics, reported on a 15-year old girl who took the non-FDA approved drug Redotex, and suffered potentially life-threatening side effects such as dangerously high resting heart rate, high diastolic blood pressure, an EKG that showed sinus tachycardia and a very high T3 level. What's even more concerning is she only took two doses of these Mexican weight loss pills, one pill each day for two days.
The case report lists the ingredients in Redotex as follows:
75 micrograms synthetic triiodothyronine (T3)

50 milligrams norpseudoephedrine

0.36 milligrams atropine

8 milligrams diazepam

6.2 milligrams aloin (a stimulant laxative)

Even though the product was banned by the FDA, Redotex can still be purchased in Mexico, which makes it difficult to regulate.
Concerns About Diet Pills
The evidence showing the dangers of Redotex is obvious. Plus, it is a drug banned by the FDA, so even if you do find a way to purchase it, taking these Mexican diet pills can have serious side effects, potentially resulting in life-threatening consequences to your health.
But it's not just prescription weight-loss drugs that can cause problems and negatively impact your health. The FDA also warns consumers to be careful when buying and taking over-the-counter dietary supplements that are sold as weight loss pills.
More specifically, they say to steer clear of products marketed as herbal alternatives to an FDA-approved drug or as having effects similar to prescription drugs, products that promise a quick fix or use the words "guaranteed," and products marketed in a foreign language.
While this may seem like a lot to keep track of, it's the right thing to do for your health. That's because, under the Federal, Food, Drug and Cosmetics Act, dietary supplement firms do not need FDA approval prior to marketing their products. Which means, the product labeling and claims that you are trusting when you buy a weight loss pill are the responsibility of the company manufacturing the supplement.