When you first walk into a gym, the range of machines can be overwhelming. However, it's unnecessary to use all of them. Women should focus on using a selection of cardio machines and weight machines -- with the aim of moving to free weights as you become more comfortable with strength training.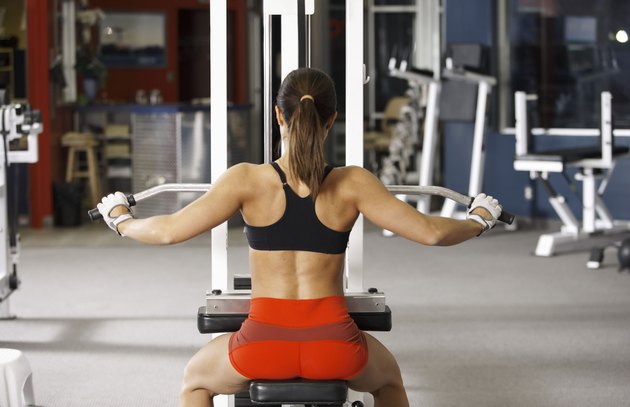 Cardio Machines
In the cardio section of your gym, you'll find a wide variety of machines. These include treadmills, ellipticals -- also known as cross-trainers -- rowing machines, steppers and stationary bikes. To target your lower body, use the steppers, bikes and treadmills set to a fast pace at an incline. Rowing machines are useful for targeting your upper body, while the elliptical will provide a full-body cardio workout. High intensity interval training, HIIT, is one of the most effective ways to do cardio on any of these machines, reducing body fat and improving overall muscle tone. Work hard for a set period, 20 to 30 seconds, then rest for a short period, 10 to 15 seconds, and repeat eight to 10 times.
Stack Machines
Stack machines provide an easy entry point to weight training for women who have never lifted weights before. These machines feature a stack of weight plates bisected by a pin bar that allows you to select how much weight to use. There are a variety of machines that use this system, which can be used for bicep curls, tricep pushdown, cable crossovers, leg curls and leg press, lat pulldowns and assisted pull-ups. These machines should be used if you are not yet confident using free weights -- once you are more comfortable, aim to move over to dumbbell and barbell work.
Plate-Loaded Machines
Plate-loaded machines are a halfway-point between stack machines and free weights. You load them with barbell plates to the weight you are comfortable with and perform a range of exercises. The Smith machine -- best used for squats and calf raises, incline leg press and incline chest press -- are the most common plate-loaded machines you'll see. These machines can be useful if you are injured and need to be careful about carrying a load, and if you're still not confident moving to free weights. However, they tend to restrict your range of movement, which can lead to poor form when you move to free weights.
Free Weights
Training with free weights will give you the most "bang for your buck." You'll use the full range of motion for each muscle group, improve your balance and posture, build lean muscle mass more effectively, and increase your strength and endurance without relying on the machine to do some of the work for you. One of the most popular free weight options is the barbell, commonly used for: deadlifts, squats, lunges, bench press, bent over row and overhead press. Dumbbells are also very popular, and can be used for all the same exercises as well as single-arm and single-leg work.