You may try to conceive a baby through in vitro fertilization, or IVF, if you're having trouble conceiving by using natural methods. Eating nutritious foods and getting exercise won't guarantee that your treatment will be successful, but healthy choices may positively influence the outcome. Evidence suggests, however, that being too active can reduce your odds of conceiving through IVF or carrying out a healthy pregnancy once you conceive.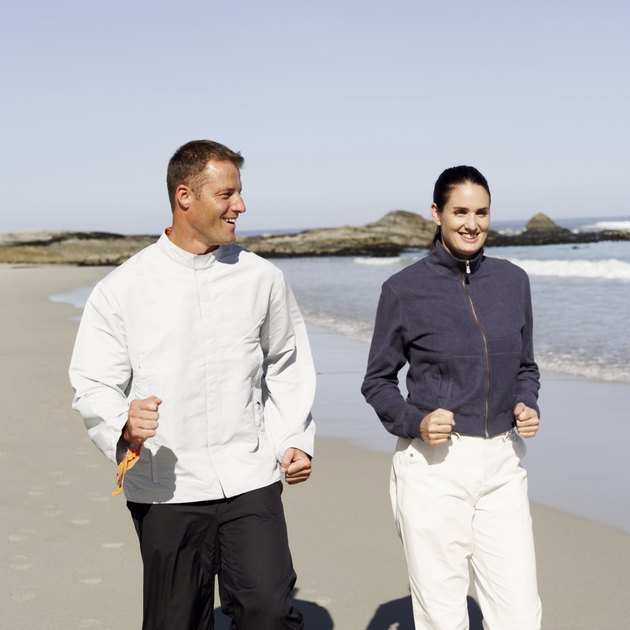 Research
Research examining the relationship between exercise and IVF treatment outcomes suggests a correlation. Women who exercised at least four hours per week for one to nine years before IVF treatment were 40 percent less likely to give birth after their first treatment compared with those who hadn't gotten that much exercise, according to research published in the October 2006 issue of "Obstetrics & Gynecology." Additionally, women who performed cardiovascular exercise for at least four hours per week for one to nine years before treatment were half as likely to carry out a successful pregnancy after their first treatment compared with women who were sedentary. Women who rigorously exercised for 10 to 30 years before treatment, however, were as likely as sedentary women to have a baby using IVF.
Theory
Exercising excessively—especially doing intense exercises such as running and biking—may stress your reproductive system and cause subtle hormonal alterations. These changes help "protect" your body from a pregnancy it would have trouble maintaining at that level of activity, explains Dr. Mark Hornstein, lead researcher and clinical director of reproductive endocrinology at Brigham and Women's Hospital, in a "U.S. News & World Report" article. Women who have been exercising rigorously for decades before IVF treatment may have a better chance of conceiving because their bodies have acclimated to higher levels of physical activity.
Study Limitations
One drawback of the study in "Obstetrics & Gynecology" is its dependence on study participants' reports of their exercise history, according to Medpage Today. Additionally, the study authors didn't examine the differences in results among its active participants who completed four one-hour sessions, eight 30-minute sessions and two two-hour exercise sessions each week.
Safer Exercise Options
Avoid overexerting your body as you go through the IVF treatment process or if you intend to seek IVF treatment. Gentle exercises such as walking around the block for 30 minutes three or four days per week promote health at a lower level of impact. Running rapidly, indoor cycling and stair climbing for exercise may be detrimental to your treatment outcome. Moreover, when you undergo IVF, avoid any activity that may cause you to sweat. Aside from many rigorous cardiovascular activities, common sweat-inducing activities include sitting in saunas, taking hot baths and lifting more than 10 pounds, according to Fertility Plus.