While it may sound like a healthy way to reset your system, a typical detox diet filled with fresh juice and special teas may not be a long-term solution to your weight problem, though it may help jump-start your weight loss. The best detox diet is one that encourages you to include foods that actually help your body work better rather than one that severely limits your intake. Consult your doctor before going on any detox diet.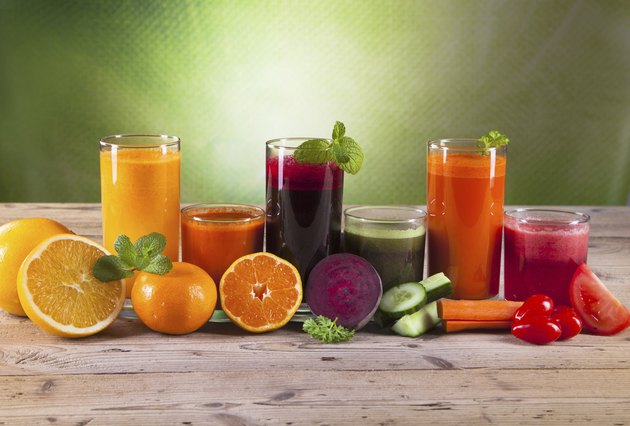 The Truth About Detox
Detox diets claim to help your body expel toxic substances, and this in turn is supposed to improve energy and health while helping you lose some weight. However, there's no scientific evidence to support any claims that a detox diet can improve upon something your body is able to do all on its own, according to a 2008 article published in Today's Dietitian. As long as you're in good health and your liver and kidneys are in good working order, your body is able to naturally detoxify itself on a daily basis and eliminate harmful substances through urination, bowel movements and sweat.
Best 2- to 3-Day Detox Foods
If you're looking for a way to improve your health and help your body detox itself, you want to eat foods that support the normal workings of your kidneys and liver. This does not mean you have to limit your intake to juice, but include whole foods that are low in fat, high in fiber and rich in nutrients. The author of the 2008 article in Today's Dietitian suggests that if you're going to do a three-day detox diet, include more fruits, vegetables and probiotic-rich yogurt. Other good options include beans, lentils, whole grains, fish, unsalted nuts and seeds, vegetable oils, fresh herbs and spices and plenty of water.
Cutting Calories for Weight Loss
To lose 1 pound of fat, you need to create a 3,500-calorie deficit, which may be difficult to do in a two- to three-day period. When you lose more than 2 pounds in two to three days, you're losing water, and maybe even some muscle, instead of fat. That's why you're more likely to regain the weight if you go back to your usual eating habits. To limit the likelihood of regaining any lost weight after a detox diet, it's important that you continue to reduce your caloric intake so that you're eating less than your body needs. The number of calories you need to continue to lose depends on your gender and activity level, and it generally ranges from 1,200 to 1,800 calories a day.
Sample Menu of Detox Foods
As with any healthy diet plan, try to eat regularly throughout the day to maintain energy levels and keep hunger at bay. For breakfast on your detox diet, consider 1 cup of oatmeal topped with 1 1/2 cups of blueberries and 12 unsalted chopped almonds. At lunch, a meal that's good for detoxing might include 2 cups of raw mixed greens topped with 4 ounces of broiled salmon, 1/2 cup of chickpeas, 2 teaspoons of olive oil and balsamic vinegar with a fresh pear. Stir-fry 3 cups of a variety of vegetables such as mung bean sprouts, carrots, bok choy and snow peas in 2 teaspoons of sesame oil with 1 cup of cubed firm tofu and serve with 1 cup of brown rice. This sample meal plan has 1,555 calories.
Detox Diet Warnings
Restrictive detox diets do not make a healthy diet choice for a number of different people. Teens, pregnant women and anyone with a chronic illness, such as heart disease, diabetes or kidney disease, should not go on a detox or restrictive diet unless under the supervision of a health care professional.