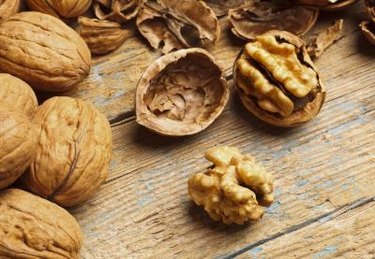 Nuts are not only tasty; they provide numerous health benefits as well. According to a May 2009 report in the American Journal of Clinical Nutrition, nuts contain fatty acids that help lower cholesterol, prevent heart disease, and control diabetes. The key beneficial fatty acid is omega-3. There are several nuts that have a high concentration of omega-3 fatty acids, and adding a daily handful to your diet can deliver health benefits. The US FDA recommends up to 3 g of omega-3s per day, which is easily attainable with nuts.
Walnuts
Walnuts have more omega-3 than any other nut. Just 1/4 cup of walnuts provides 2.5 g of the essential fatty acid. Walnuts also offer other health protective benefits. In a study published in the August 2009 issue of the European Journal of Clinical Nutrition, subjects that added walnuts to their 2000 calorie per day diet experienced weight loss, as well as a drop in blood sugar levels. Along with omega-3 fatty acids, walnuts contain ellagic acid. Memorial Sloan-Kettering Cancer Center reports that ellagic acid contains antiviral and antibiotic properties and is now found to have anticancer properties as well.
Butternuts
Butternuts are related to walnuts, and in fact are often referred to as "white walnuts." Their omega-3 fatty acid content is similar to walnuts as well, with 1 oz of dried butternuts containing 2.44 g. Although butternut trees are native to North America, the nuts are not as readily available as walnuts. The Western North Carolina Nature Center reports that insects and diseases have damaged many butternut trees, completely eliminating them from some states. Because they are more difficult to find, butternuts can also be expensive. For omega-3 benefits, the walnuts that are easily found at the grocery store may be the better option.
Other Nuts
The remainder of nuts that have omega-3s are grouped together, because compared to walnuts and butternuts, their content is minimal, with just a trace of the fatty acid. Slight amounts can be found in brazil nuts, cashews, hazelnuts and peanuts, with a 1 oz serving containing less than 1 g of omega-3. A 2004 report from the "Canadian Medical Association Journal" states that of all of these nuts, cashews contain the highest amount of omega-3s. A 1 oz serving of dry, roasted cashews contains 0.221 g. While these nuts may be much lower in their omega-3 content, they contain many other compounds that are essential for overall health. Most nuts contain mono and polyunsaturated fats-which help lower cholesterol; L-arginine, which helps maintain the health of the cardiovascular system; fiber,which lowers cholesterol and helps control diabetes; vitamin E, which is an antioxidant and helps prevent heart disease and plant sterols, which help lower cholesterol levels.
Was this article helpful?
Thank you for your feedback!