Genetically modified foods -- also known as GMOs or genetically engineered organisms -- appear on grocery store shelves and restaurant plates throughout the United States. Unfortunately, you're probably unaware that the food has been genetically altered because no requirement exists that requires food to be labeled as genetically modified. Eating genetically modified foods may have negative effects on your overall health and on the environment.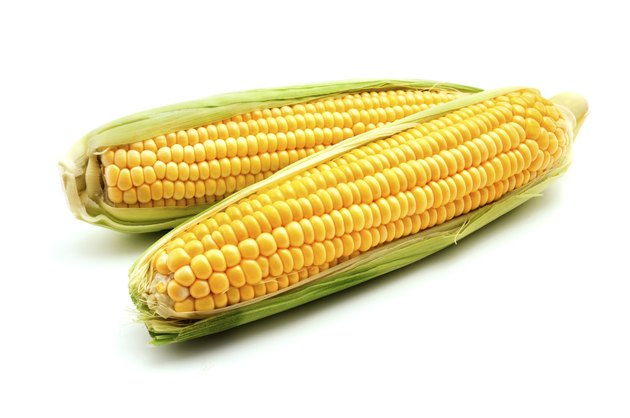 Definition of Genetically Modified
Genetically modified foods are biologically altered foods. To do this, scientists isolate a desired gene from one plant, animal or organism and splice it into another. By doing so, scientists are hoping to achieve a specific benefit such as increased crop yield, resistance to herbicides and pesticides, resistance to disease or drought tolerance. In the U.S., more than 88 percent of all the soy, corn, canola, sugar beets and cotton plants grown here are genetically modified. Alfalfa, papaya and summer squash are genetically engineered, as well. Animal products such as meat, milk and eggs often contain genetically modified foods, because the food fed to livestock are from crops that have been genetically modified.
The Safety Is Uncertain
Genetically modified foods are relatively new to the food supply, and people have only been consuming these foods since the mid-1990s when the first genetically modified tomatoes appeared in grocery stores. There is no long-term data on how genetically modified foods affect human health. Clinical trials done on animals that were fed genetically modified crops are of short duration and show mixed outcomes. A study published in the "International Journal of Biological Sciences" in December 2009, notes that rats fed genetically modified corn had a decline in liver, kidney, heart, adrenal gland and spleen health and function. Short-term studies in which animals were fed genetically modified foods for only 4 weeks usually show few negative side effects. No research has been conducted on the health and safety for people who eat genetically modified foods.
Chemical Contamination
The genes themselves in these biotech foods may pose a human health risk, but the chemicals the plants are treated with also have negative consequences. Soybeans, for example, are genetically engineered to withstand spray from powerful herbicides, which kill all weeds and other plants in the farm field, while leaving soy plants unharmed. As a result, the food you eat may contain traces of these toxic chemicals. The Environmental Protection Agency notes that some pesticides have been linked to nervous system disturbances, visual and skin irritations, endocrine problems and an increase in certain cancers.
Environmental Ramifications
In addition to your health, genetically modified foods may have negative side effects on the environment. Genetically modified crops are often sprayed with powerful pesticides and herbicides, and are fertilized with chemical fertilizers. These chemicals then contaminate the environment by traveling through the air; they leach into the ground, where they end up in fresh-water sources. Weeds have begun to develop a resistance to some of these chemicals -- which means that in the future, it will be more difficult to control noxious plants. Wind also carries the pollen from genetically engineered crops to neighboring farm fields where seed stock is then cross-contaminated with genetically modified pollen. Over time, this leads to a reduction in the biodiversity of crop strains. Insect populations may also be harmed by genetically modified crops that produce pesticides.
Labeling Is Not Required
Currently, the U.S. Food and Drug Administration does not require genetically modified foods to be labeled as such. Companies can voluntarily label foods, if they choose. This means that you have no idea whether the product you buy contains genetically modified ingredients or not. You can still select foods that have not been modified by looking closely at the label. Foods that have the "organic" seal or that state they are "100 percent organic," means that the food cannot contain genetically modified. Even if it's not organic, look for a seal stating the food is "Non-GMO Project Verified." Otherwise, you may be consuming genetically modified food with potential negative health implications.