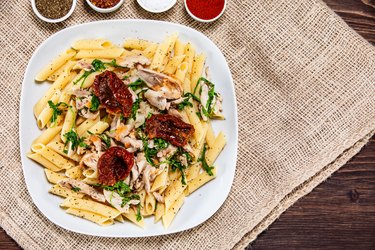 Weight Watchers uses a PointsPlus system that assigns points to the foods and drinks you consume — such as the points in pasta. Your goal is to stay within your daily PointsPlus range. Points are calculated based on how filling foods are and how many calories are left after digestion.
Protein and fiber are more filling and take more energy to process than fat, so high-protein and fiber-rich foods have a lower points value. When it comes to pasta, the PointsPlus value varies depending on the type of pasta you choose and what you put on it.
Points in Pasta
When possible, choose whole-grain pasta or spaghetti for Weight Watchers PointsPlus, since it's higher in fiber and more nutritious than refined pasta. A 1-cup serving of regular cooked pasta has a PointsPlus value of five, according to weightwatchers.com.
The Weight Watchers pasta portion size PointsPlus value for a 1-cup serving of whole-wheat pasta or any other whole-grain pasta is four. If you double the portion, you need to double the points. So 2 cups of regular pasta has a PointsPlus value of 10, and whole-wheat pasta has a PointsPlus value of eight.
Choose Sauce Wisely
The toppings you add can make a major dent in your daily points, so it's best to choose carefully. For example, 1/2 cup of Alfredo sauce has a PointsPlus value of 10, while pesto sauce has a PointsPlus value of four and Bolognese sauce, which contains milk and heavy cream, has a PointsPlus value of six.
Weight Watchers recommends healthier options, such as marina, spicy red sauce, vodka sauce, primavera sauce or red clam sauce, which all have a PointsPlus value of three.
Sub Out the Pasta
If you're craving pasta and prefer to save your points to put toward something else, you can substitute with spaghetti squash. At 42 calories per cup, according to the USDA, spaghetti squash is a vegetable with a PointsPlus value of zero. Roasting it in the oven softens the inside. Then all you need to do is cut it in half and gently scrape out the flesh, which has a noodle-like texture.
As an alternative, you can purchase pasta made from vegetables. You can find veggie pasta at your local grocer, and it's typically made using spinach and other vegetables. This type of veggie pasta has a PointsPlus value of two.
Maximize Your Points
If you're not interested in eating veggie pasta or using a spaghetti squash substitute, you can still enjoy pasta, but it's best to be savvy. Pay close attention to the Weight Watchers pasta portion size. Instead of using two portions of pasta, you can bulk up your dish with non-starchy vegetables, as listed by the University of Michigan, since they have a PointsPlus value of zero. Try tossing in some steamed broccoli or red and green bell peppers with onions.
If you're making meat balls, trying using ground turkey or chicken. If you use beef, try 95 percent lean ground beef. If you add parmesan cheese, keep in mind it has one PointsPlus value per tablespoon.