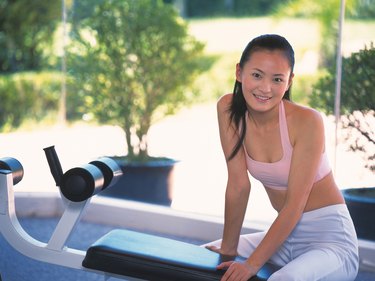 Nautilus, a fitness equipment company, owns the brand Bowflex, which achieved success in the late 1990s through aggressive direct marketing campaigns. First developed by Ethiopian immigrant Tessema Dosho Shifferaw, Bowflex has been a recognized name in home fitness equipment for 25 years. The Power Pro line of home gyms played a major role in its success. However, Nautilus recalled the XTL series in 2004 due to safety issues.
Features
The Bowflex Power Pro XTL is a home gym that relies on a patented system of pulleys and power rods to provide varying levels of resistance. It provides a weight-training workout similar to what you get from using free weights. It consists of various attachments, which allow you to perform a variety of exercises. The Power Pro XTL features a leg-extension attachment, chest bar, lat pulldown, squat attachment and foot harness.
Backboard Bench Safety Issue
Nautilus cooperated with the U.S. Consumer Product Safety Commission and issued a recall of the Bowflex Power Pro XTL in January 2004. When being used in an incline position, the machine's backboard bench can collapse unexpectedly and break, causing injury. Nautilus and the CPSC received 70 reports of the backboard bench breaking, leading to at least 59 neck back and shoulder injuries. The recalled machines were made in China, Taiwan and the U.S.A.
Lat Tower Safety Issues
The lat tower on the Bowflex Power Pro XTL poses an injury risk as well. When being used, the lat tower can rotate forward and fall on your head, neck or shoulder area. Nautilus received at least 14 reports of neck, shoulder, nose, head and tooth injuries. Most of the injuries were minor but some required stitches, according to a Nautilus press release. The lat tower attaches to the back of the seat bench and features pull-down pulleys to create resistance.
Repair Kits
Infomercials and retail stores sold the machines from January 1995 to December 2003. You can still find the Bowflex Power Pro XTL used at second-hand dealers and websites. Following the recall, Nautilus sent free repair kits to consumers who owned the recalled machines. The kits contained a steel bar to reinforce the bench and a steel bracket to provide support for the lat tower.