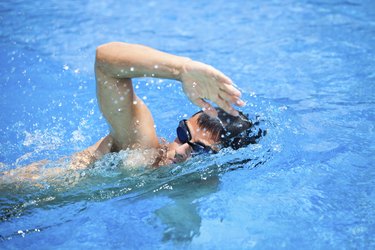 International swimming competitions feature four strokes: freestyle, butterfly, backstroke and breaststroke. Swimming statistics show freestyle remains the fastest stroke, according to world records posted on USAswimming.com, followed by butterfly, backstroke and breaststroke, the slowest competitive swimming stroke.
The classic freestyle, also known as the front crawl, combines a scissor kick with an overhead arm pull in which the arms move in an alternating pattern. Swimmers face the bottom of the pool to swim the freestyle. The international swimming governing body, the Federation Internationale de Natation or FINA, does not provide specific rules for the execution of the freestyle in its rulebook. In fact, swimmers can swim in any style they choose during freestyle events, except in medley events, when they may not swim backstroke, breaststroke or butterfly. Still, most swimmers perform the classic freestyle stroke that has proved to be the fastest stroke in competitive swimming.
The butterfly stroke combines a dolphin kick with an overhead arm pull in which the arms move together. According to FINA rules, swimmers must move their legs up and down simultaneously and may not perform a scissor kick or butterfly kick. Butterfly swimmers also must move their arms together simultaneously throughout the race.
All of the fastest 50 m, 100 m, 200 m, 400 m and 800 m swimming records have been achieved in freestyle events, according to the world records posted at USAswimming.org.
Here are the current world records in freestyle:
50 meters:
100 meters:

Men: Cielo Filho, 46 seconds, 91 milliseconds (2009)
Women: Sjoestroem, 51 seconds, 71 milliseconds (2017)

200 meters:
400 meters:

Men: Biedermann, 3 minutes, 40 seconds, 7 milliseconds (2009)
Women: Katie Ledecky, 3 minutes, 56 seconds, 46 milliseconds (2016)

800 meters:

Men: Lin Zhang, 7 minutes, 32 seconds, 12 milliseconds (2009)
Women: Ledecky, 8 minutes, 4 seconds, 79 milliseconds (2016)

1,500 meters:

Men: Yang Sun, 14 minutes, 31 seconds, 2 milliseconds (2012)
Women: Ledecky, 15 minutes, 20 seconds, 48 milliseconds (2018)
Here are the current world records in butterfly:
50 meters:
100 meters:

Men: Caleb Dressel, 49 seconds, 50 milliseconds (2019)
Women: Sjoestroem, 55 seconds, 48 milliseconds (2016)

200 meters:

Men: Kristof Milak, 1 minute, 50 seconds, 73 milliseconds (2019)
Women: Zige Liu, 2 minutes, 1 seconds, 81 milliseconds (2009)