Drinking juice is a sweet way to quench your thirst, but if you're trying to limit carbs and sugar, you'll want to practice portion control for most varieties. This doesn't mean juice is totally off limits. Vegetable-based juice blends offer a low-sugar, lower-carb alternative. And if you have a juicer, the possibilities are endless.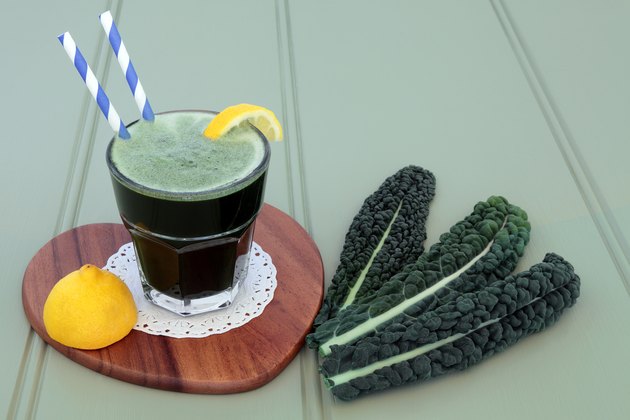 Fruit Versus Vegetable Juice
As a concentrated source of calories, carbs and sugar, 100-percent fruit juice may not make the best choice if you're looking for a drink that's low in carbs and sugar. One cup of either apple or orange juice has 110 calories, 25 to 28 grams of carbs and 21 to 24 grams of sugar. This high-calorie, high-sugar content means you should limit yourself to not more than 4 ounces of fruit juice daily.
Try 100-percent tomato or pure vegetable-blend juice, instead. Each has 10 grams of carbs, 7 grams of sugar and only 50 calories, and you can drink up to 8 ounces a day. However, not all vegetable juices fit a low-carb, low-sugar meal plan. Carrot juice, for example, has 22 grams of carbs and 9 grams of sugar per cup.
Low-Carb, Low-Sugar Vegetable Juices
While ready-to-drink vegetable juices are convenient, you can make your own fresh veggie juice with a juicer. However, if you're trying to limit your sugar intake, stick with lower-carb and lower-sugar veggies. Good choices include celery, spinach, cucumbers, lemon, lime, tomato and kale. With fresh juice, it's harder to determine the exact carb and sugar content of your drink, so you should limit your serving size to 8 ounces. A blend of tomato, kale and celery juice makes a tasty low-carb, low-sugar combination. You might also enjoy spinach juiced with cucumber and lime or juiced with cucumber, tomato and lemon.
Just like carrots, beets are higher in carbs and sugar, so you should limit the amount you use in veggie juice blends.
Light Fruit Juice
If you prefer your juice sweet, you might like light juice as a low-carb, low-sugar option. These ready-to-drink fruit juices are sweetened with artificial sweetener, which keeps the carb and sugar content low. An 8-ounce serving of light orange juice has 13 grams of carbs and 10 grams of sugar -- half the amount in a glass of regular orange juice. Light grape juice has 12 grams and 11 grams of carbs and sugar, respectively.
To avoid artificial sweeteners, try low-sugar apple juice made for toddlers. This juice is diluted with water and has 40 percent less sugar than the original. It contains 16 grams of carbs and 15 grams of sugar.
Diet "Juice" Drinks
For a carb- and sugar-free juice drink, consider diet fruit drink, a juice-based drink sweetened with artificial sweetener. An 8-ounce serving of a commercially available cranberry juice drink has only 5 calories and no carbs or sugar. By comparison, an 8-ounce serving of 100-percent cranberry juice has 31 grams of carbs and 31 grams of sugar. However, since these drinks don't contain much actual juice, you won't get the nutritional benefits of real fruit and vegetable juices -- and you'll also up your intake of artificial sweeteners.