The trapezius muscle is at the back of the neck and upper back. According to the Britannica Online Encyclopedia, the right and left trapezius form a trapezium, which is a shape with four irregular sides. The trapezius muscle allows you to lift your shoulders up or down. A lump in the trapezius muscle may be due to a knot or myofascial trigger point. According to the Sacred Luna website, trigger points cause pain and can be felt as a lump in a muscle, are usually tender under pressure and can cause referred pain.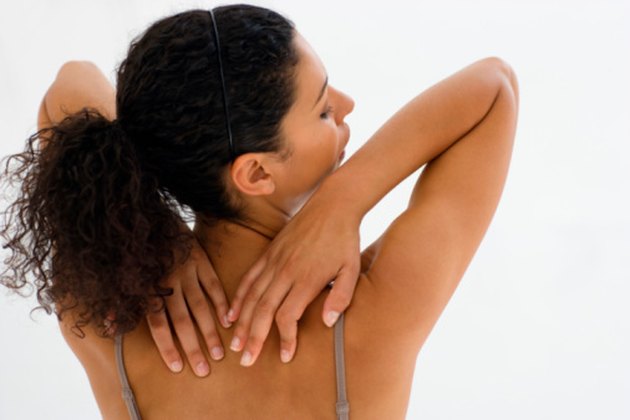 Myofascial Trigger Points
Myofascial trigger points are knots or lumps in a muscle that cause pain and tenderness. Trigger points are painful when pressed and cause a shortening, or contracting, of a muscle. Referred pain can occur with these trigger points, which means a knot in a muscle can create pain in another area. For example, when a spot on your trapezius muscle on the top of your shoulder has a trigger point, you may get pain up the side of your head and neck, causing a headache.
Causes
According to the National Association of Myofascial Trigger Point Therapists, damage to your trapezius muscle, or any muscle, resulting in trigger points can occur in many ways. These include repetitive overuse injuries such as using a computer or handheld electronic device, repetitive strain from lifting, poor posture, muscle tensing due to stress, traumas and injuries or prolonged bed rest or sitting. MayoClinic.com also indicates that pain created by muscle trigger points is more likely in middle-age adults and in women.
Treatment
If you have a painful lump in your trapezius muscle, treatment may include physical therapy, trigger point injections or medications. No evidence identifies benefits of using one therapy over another, according to MayoClinic.com. Physical therapy involves stretching exercises, massage and identifying and correcting causes of your pain. During a trigger point injection, your doctor inserts a needle into a trigger point and locations surrounding the trigger point in your muscle. Medications such as ibuprofen, naproxen and certain depression medications may help relieve pain.
Visit Your Doctor
When you detect a lump anywhere on the body, visit your doctor. You should see a doctor even if the lump isn't painful. Rarely, a lump in a muscle can be a sign of a more serious health condition.