Gaining weight requires you to consume more calories more than you expend. Knowing which foods are high-calorie can help you meet your goals for calorie consumption and rapid weight gain. Choose highly nutritious foods that are calorie-dense for the healthiest weight gain.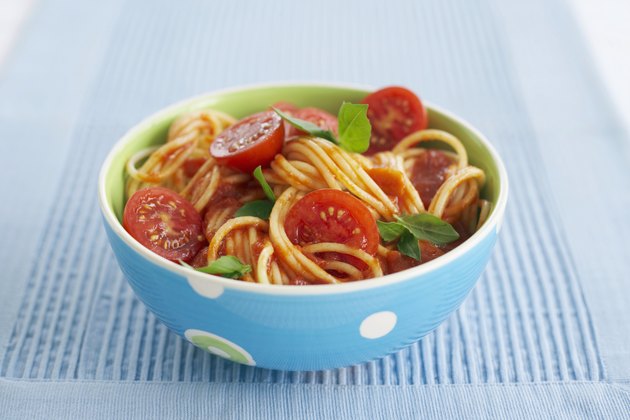 Snack on Nuts
Nuts can help you gain weight because they are calorie-dense and convenient. An ounce of walnuts provides 175 calories, an ounce of hazelnuts has 178 calories and a 2-tablespoon serving of peanut butter has 188 calories. Take advantage of their long shelf life without refrigeration, and store them at home, at work or in the car so they are always handy. Make trail mix with mixed nuts and dried fruit, add pecans or almonds to cereal, or spread almond or peanut butter on bananas.
Start the Day With Bagels
A large, 4.5-ounce plain white bagel provides 337 calories, and a 4.5-ounce wheat bagel contains 315 calories. Bagels can help you gain weight because they are high-calorie, and choosing whole-grain foods instead of refined grains can lower your risk for heart disease and Type 2 diabetes. Order a bagel with your morning coffee for a high-calorie breakfast on the go, or serve yourself a bagel when you have a work meeting in the morning. Spread some peanut butter on your bagel or order it with low-fat cream cheese and salmon.
Dried Fruit
Calories can quickly add up when you eat dried fruit. A cup of dried apricots has 313 calories, and a cup of raisins contains 493 calories. In comparison, a cup of fresh apricots has only 74 calories, and a cup of grapes has 104 calories. Dried fruit is nonperishable, so you can easily keep it on hand. Add raisins to cereal or peanut butter sandwiches, snack on dried pineapple after exercising and carry apple rings or dried pear slices with you on hikes.
Add Healthy Fats to Foods
Fat provides 9 calories per gram, while carbohydrates and protein each provide 4 calories per gram. A tablespoon of olive oil provides 119 calories, and a tablespoon of canola oil has 124 calories. Avocados are high-fat fruits with 368 calories per cup of pureed flesh. Since fat is more calorie-dense than carbohydrates and protein, consuming healthy fats, such as plant-based oils and avocados, can help you gain weight. Roast vegetables and chicken in olive oil or add sliced avocados to sandwiches to get more calories.
Consider Nutrient Content
Many high-calorie foods that can help you gain weight quickly are unhealthy. Examples include high-sugar foods, such as cake, pie and candy, and foods high in saturated fat, such as full-fat cheese, butter, sour cream and fatty meats. Choose nutrient-dense sources of calories to stay healthy as you gain weight. Continue to include lower-calorie healthy foods, such as vegetables, in your diet. To help you gain weight, dip such foods in high-calorie, oil-based dressings, which are lower in saturated fat than dairy-based dressings.