Naturally skinny people are the envy of many who battle a widening waistline; however, if you struggle to achieve your goal of increased weight or muscle mass, you know that it's nothing to envy. If you're following an intense weightlifting program to build muscle, you'll need to supplement it with a high-calorie diet. Protein shakes are one way to get the protein you need each day; you can add healthy, high-calorie ingredients to your protein shakes to increase your calorie consumption.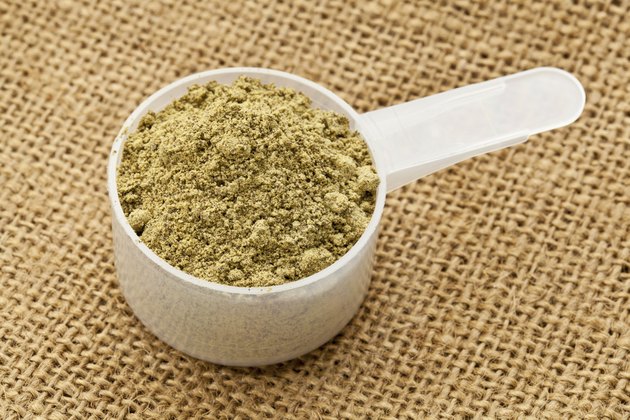 Step 1
Incorporate one or two protein shakes into your daily diet to increase your calorie and protein intake. Whole foods are the best sources of calories and protein, but if you have a naturally high metabolism, you may find it difficult to get what you need through whole foods alone.
Step 2
Purchase a high-quality protein powder made from casein, whey, rice, soy or hemp proteins. Avoid products with added sugars and preservatives.
Step 3
Add nutritious high-calorie ingredients to your protein shakes to boost the calorie content. Ingredients such as whole milk, nut butters, yogurt, berries, bananas and avocado will all add extra calories, protein and other nutrients to your daily diet to help you put on weight.
Step 4
Drink a high-calorie protein shake after your workout to aid in recovery and muscle-building. Include sources of carbohydrates, such as fresh fruit, in order to replace your glycogen stores, which have been depleted during your workout. This will help provide the energy you need to work out the next time so you can keep gaining muscle and weight. The best time to have a shake is 15 to 60 minutes after your workout, according to Go Ask Alice, a service of Columbia Health.
Tip
In addition to your shakes, get your protein from lean whole food sources such as chicken breast, fish and tofu. Avoid protein sources that are high in saturated fat, such as fatty red meats and fried meats, as saturated fat raises your cholesterol and increases your risk for heart disease.
Warning
Eating too much protein -- more than your body can use -- isn't effective for gaining weight in the form of lean muscle mass. Excess protein turns to fat if the body doesn't use it, which can lead to fat gain. Excessive protein intake can also lead to dehydration and calcium losses.