Nutrients are essential for your survival. Proteins, fats and carbohydrates are called macronutrients. Your body needs larger amounts of macronutrients for energy, growth and development. Fats provide 9 calories per gram while protein and carbohydrates each provide 4 calories per gram. Vitamins and minerals make up micronutrients because they're needed in smaller amounts.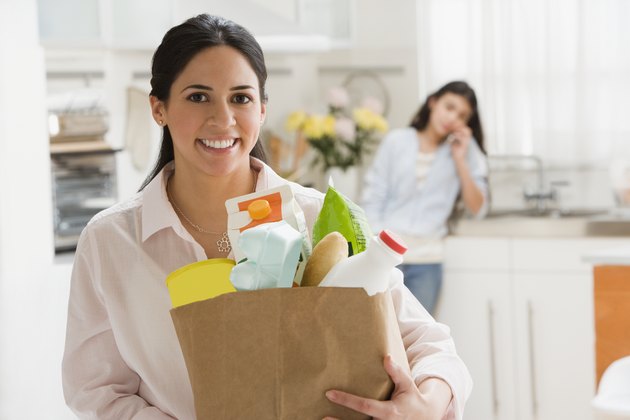 Protein for Growth
Protein builds new cells and fixes damaged ones in all parts of your body. During childhood, adolescence and pregnancy protein is especially important for growth. Protein is made up of amino acids. Along with growth and repair, they preserve muscle mass, hormone production, enzyme production, properly functioning immune system and to provide energy if carbohydrates aren't available. Protein is found mostly in meat, eggs, fish, nuts, seeds and beans.
Carbohydrates for Energy
Carbohydrates are broken down to the simplest form as glucose, which is your body's main source of energy. Carbohydrates are important for your brain, nervous system, kidneys and muscles. They are mainly stored in the liver and muscles to use later for energy. Fiber, a type of carbohydrate, removes waste and promotes bowel health by allowing waste to move more quickly through your gut. They are mostly found in grains, fruits and milk but are also found in nuts, seeds, beans and vegetables.
Fats for Health
Fats are broken down into their simplest form of fatty acids. Fat is used for cell membranes, energy, absorbing fat soluble vitamins, support for your internal organs and to provide taste and texture to food. Types of fats are monounsaturated, saturated and trans fats. Good fats, or unsaturated fats, include olive oil, avocados and nuts. Bad fats, otherwise known as saturated fats, are meat, butter and lard. Trans fats, or very bad fats, are in baked goods, fried foods and snack food.
Vitamins and Minerals
Vitamins and minerals are essential because they connect with each other and perform many different things in your body. Water soluble vitamins are in the watery parts of food and can move freely throughout your body. They form energy, build protein and make collagen. Fat soluble vitamins are in fatty foods and have to be transported through your body through a protein escort. They interact with each other to protect eyes, bones, skin, lungs and your intestines. Major minerals, or electrolytes, balance bodily fluids. Trace minerals perform various tasks such as carrying oxygen throughout your body, blood clotting, immune system and strengthening bones.
Water Functions
You drink water to replenish what you lose through waste removal, sweat and everyday metabolic functions. Water is important for keeping a normal body temperature, urination, bowel movements, sweating, protecting your spinal cord and providing a barrier for your joints. Increase your water intake with exercise, fever, illness and when the temperature is hot.