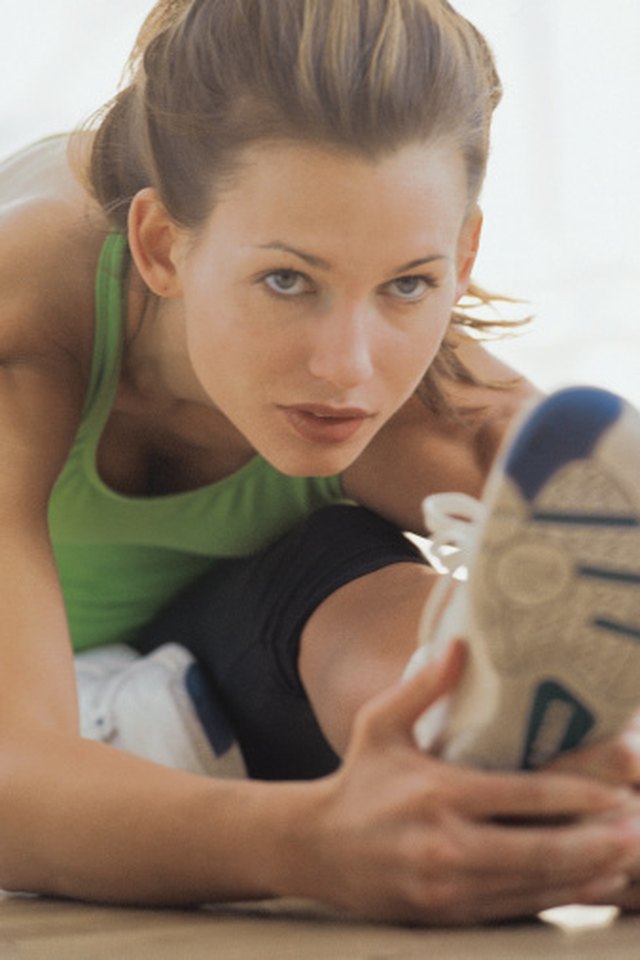 Your hamstrings are the three muscles than are located in the back of your thigh. The muscle group is large, running from your pelvic region to just below your knee in the lower leg. Hamstring injuries are common among athletes, pulls and strains from overworking tight hamstrings can become quite painful. Tight hamstrings that cause sharp pains or a generalized soreness in the upper leg should be cared for at home; if your painfully tight hamstrings don't improve with self-care, schedule an appointment with your doctor.
RICE
RICE stands for rest, ice, compression and elevation and is the standard first line course of care when you're suffering from a painful hamstring that's strained due to tightness. Icing your hamstrings for 20 minutes several times daily can alleviate some of the pain and reduce swelling. Compression with an elastic bandage and elevation also curb swelling, which in turn helps the pain recede. Taking a break from your everyday activities gives your tight, strained, and sore hamstrings time to heal without aggravating the problem. Depending on your body's response, you may only need to apply RICE principles for a few days, but severe strains may take more time to heal.
Heat
Researchers from both the University of Kentucky and University of Texas recommend a regimen of moist heat to loosen up tight hamstrings without contributing to pain. Applying a heat pack warmed to a temperature of 160 degrees Fahrenheit to athletes who experienced hamstring tightness, assisted in giving the hamstring more flexibility when measured during stretching. Moist heat, used cautiously in 20-minute sessions to avoid burns, can be used in conjunction with dynamic stretching of the thigh muscles to prevent strains and to relieve some of the pain that stems from habitual tightness. A massage, provided by a sports trainer or physical therapist may also be helpful following moist heat.
Stretching
Stretching tight hamstrings is an effective way to loosen up the muscles, which can relieve some of the pain associated with the condition. Stretch only within your limits; if the stretch is painful, don't push yourself, but just go as far as you can without pain. A flexibility stretch for the hamstrings called the bicycle swing can be done without any equipment other than a wall or chair for support, if needed. Stand on one leg and bring the other leg up, knee bent, so that your thigh is parallel to the floor. Swing your lower leg out and back, extending and flexing the knee. Work slowly to avoid pain. Perform another standing hamstring stretch by putting one leg out in front of you, knee straight and toe pointing to the ceiling. You'll be bearing weight on your heel. Lean forward over your front leg bend your back leg slightly and put your hands on your back thigh to support yourself. You should feel a stretch in your front leg's hamstring as you lean forward.
Considerations
Your tight hamstrings might not stem from inadequate stretching, though for many people this is a main cause. Some people are genetically predisposed to having tight thigh muscles, which can create pain if you don't take the time to stretch out thoroughly before a workout. Another cause for painfully tight hamstrings is the effects of a back injury. People who suffer from lower back pain, such as from a herniated disc, often experience muscle stiffness in the back as well as nerve pain that extends down the leg, called sciatica. Both back stiffness and sciatica can cause you to involuntarily tighten up your hamstring muscles.