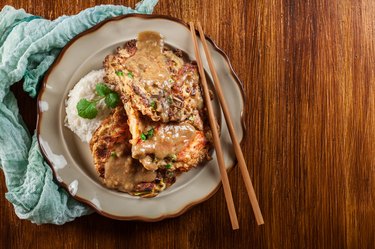 The right egg foo young recipe can make for a delicious and protein-rich meal. Here's what you need to know about egg foo young's nutrition profile and how you can enjoy this dish healthfully.
Egg Foo Young's American Origins
Egg foo young, also known as egg fu young, egg fu yung and egg foo yong, as noted by the University of Hawai'i, is a type of omelet that is made with veggies and meat, with a soy-based gravy poured over it. It can be served with rice or chop suey.
MOFAD City, a project by the Museum of Food and Drink that explores the stories and culture behind food in neighborhoods across the United States, explains that culinary historians believe that egg foo young traces its origins back to a custardy, Cantonese-style of omelet traditionally served in banquets, known as fu rong.
MOFAD City notes that egg foo young is believed to have first appeared in the United States when the transcontinental railroad was being constructed. It is speculated that Chinese cooks would make this dish for loggers and construction workers. The gravy poured over the dish and the addition of cornstarch are deviations from the authentic style of preparation and are typical of Chinese American cuisine.
According to the James Beard Foundation, egg foo young also inspired the creation of the western omelet. Also known as the Denver omelet, this omelet originated during the construction of the railroad as well, and is also believed to have been invented by Chinese cooks.
Egg Foo Young Nutrition
The egg foo young served in Chinese restaurants is often cooked with a lot of oil and served with a rich gravy that is loaded with sodium. The University of Pittsburgh recommends avoiding egg foo young in Chinese restaurants, since it tends to be very high in calories.
To enjoy egg foo young with fewer calories and less cholesterol, fat and sodium than restaurant versions, you're probably better off making it on your own, following a healthy egg foo young recipe.
The USDA lists an egg foo young recipe that uses eggs, chicken and vegetables like bean sprouts, mushrooms and onions. The recipe also includes a homemade gravy made with low-sodium soy sauce and a small amount of cornstarch to accompany the dish. It is recommended that you serve it with brown rice and a salad.
The USDA lists this egg foo young dish's nutrition information. Made with minimal oil, a serving of this egg foo young has 197 calories and is a good source of protein and potassium. The majority of egg foo young's calories are from protein and fat; however the saturated fat content in this dish is minimal. Of the 10 grams of fat, only 2 grams are from saturated fat.
While it does contain some cholesterol and sodium, the USDA notes that each serving provides 2 ounces of protein, of the 5.5 ounces you should be eating per day as recommended by Health.gov's 2015-2020 Dietary Guidelines for Americans for a 2,000-calorie diet. It also offers 1 cup of vegetables, of the 2.5 cups recommended per day for a 2,000-calorie diet.