Egg foo young, a Chinese version of an omelet, typically contains fresh vegetables and meat or seafood whipped up with eggs and fried in a skillet. Egg foo young is relatively low in calories, but even though eggs are a healthy source of protein and the veggies in the dish can provide some fiber, egg foo young is very high in fat and sodium.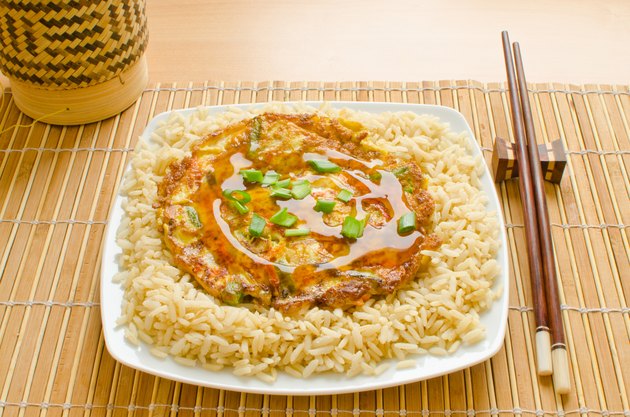 Restaurant Nutrition
The specific nutrient content of takeout egg foo young will vary depending on the chain, so check the restaurant's specific nutrition information. One popular restaurant offers egg foo young made with chicken, beef, pork, shrimp or veggies only. The veggie version is the healthiest, with 333 calories per serving, 9 grams of carbs, 350 milligrams of sodium, 19.5 grams of protein, 1.8 grams of fiber and 25 grams of fat, 6 of which are saturated. The shrimp version of the dish is the heaviest, with about 450 calories, 9 grams of carbs, almost 1,700 milligrams of sodium, 24 grams of protein, 2 grams of fiber and more than 35 grams of fat, 7.5 grams of which are saturated.
Egg Foo Young Gravy
The thick and salty brown gravy that usually covers egg foo young is a primary source of sodium in the dish. The gravy is typically made from thickened vegetable or meat broth and soy sauce, both of which are high in sodium. The American Heart Association recommends limiting your total sodium intake to 1,500 milligrams daily since eating a lot of sodium can raise the risk of high blood pressure and harm your cardiovascular health.