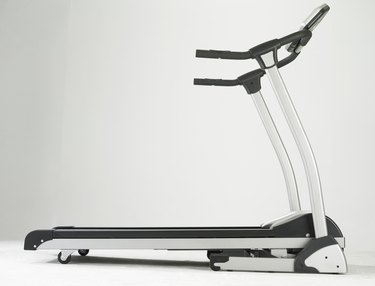 Treadmills take up quite a bit of space and they don't always match the decor of your home. Placing them in an out-of-the-way spot, such as your garage, is a tempting solution. However, manufacturers strongly advise against this, especially if the garage is unheated, and it could void your warranty.
Guidelines from the Manufacturer
Most manufacturers list guidelines for where you should place your treadmill. These recommendations are generally found in the user's manual and usually list a garage, specifically, as a place to not put your treadmill. Icon Health and Fitness, which makes several popular brands of treadmills, including ProForm, NordicTrack and Weslo, cautions you to not place your treadmill in a garage, covered patio or near water.
Cold Can Do Damage
Even if you don't live up north in snow country, it's likely that at certain times during the year, your unheated garage gets cold. The cold is not good for your treadmill's mechanical components, belt or LCD screen. The electronic components, such as the incline function, could freeze and cease working. The cold can cause the belt to harden and crack, causing premature wear. If the LCD screen on the console freezes, it may crack as well.
Dust And Dirt Cause Problems
The garage is usually not the cleanest room in a house. It's a place where dust, dirt, grass and leaves collect over time. This debris will get into the grooves of your treadmill and possibly into the motor. Even when you keep your treadmill in the house, you need to clean the belt and motor regularly. If you keep your treadmill in your garage, it would be nearly impossible to keep up with the excessive accumulation of debris, which can cause damage and wear to the motor and belt.
Check Your Warranty
The manufacturer's guidelines for where to place your treadmill are generally listed in the "Important Precautions" section of the user's manual. Using your treadmill in a manner that opposes these precautions may void your warranty. If your treadmill sustains damage because you use or store it in an unheated garage, the damage may not be covered under the warranty, even if the product is still within the warranty period. Warranties differ between manufacturers, brands and models. Check your warranty for full details.