When you start a new diet, your body is bound to change. You may lose weight, and your skin may clear up. But on the other hand, you may feel dizzy and tired, at least initially. While some symptoms are normal in the beginning stages of a new diet, consult your doctor if dizziness and fatigue are persistent or severe.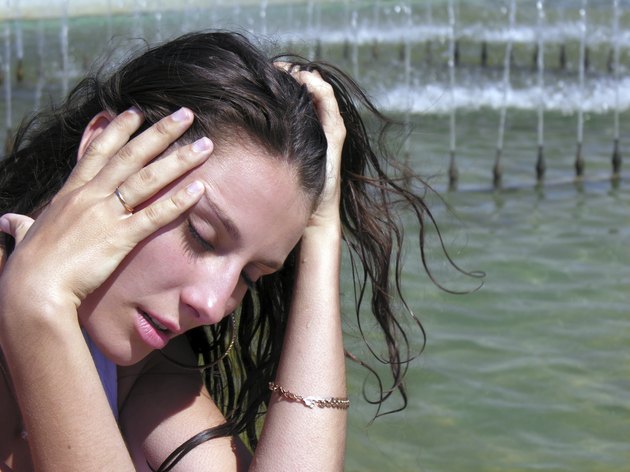 Counting Calories
Feeling dizzy and tired on a diet may be a sign that you're not taking in enough calories. Your body uses calories for energy. When you don't take in enough, your body will turn to glycogen and fat stores for energy, but eventually these stores run out. Over time, a very-low-calorie diet can leave you feeling dizzy, tired, hungry and weak. Make sure you're consuming at least 1,200 calories per day.
Battling Blood Sugar
If you're skipping meals or not eating enough carbohydrates, it can lead to hypoglycemia or low blood sugar. If your blood sugar drops below 70 milligrams per deciliter, it can result in dizziness, tiredness, headache, weakness, anxiety and increased heartbeat. Avoid hypoglycemia by eating five or six small meals throughout the day instead of three larger meals. Choose complex carbohydrates like whole grains, oats and beans over white breads and sweets.
Drink Up
Your body is made up of approximately 60 percent water. The water in your body serves a variety of functions, including allowing the chemical reactions that provide you with energy to take place within your cells. If you don't drink enough water while dieting, it can leave you feeling tired and dizzy. Lack of water can also cause headaches, muscle cramps, dry mouth and increased thirst. The amount of water you need each day is equal to half your body weight in ounces. If you weigh 150 pounds, you need 75 ounces of water daily. If you are also exercising while dieting, drinking water becomes even more important since you lose excess water through sweat.
Take Caution
When you start a new diet, you may feel dizzy and tired as your body adjusts to your new lifestyle and you find out what works for you. If you adjust your calories and increase your water intake and your symptoms persist, it may be a sign of an underlying condition. Visit your doctor to rule out any serious health conditions.