Most exercises can help you lose weight, even jogging for as few as 30 minutes, as long as you take other factors into consideration. The only way to lose weight is to burn off more calories than you consume, so you must pay attention to what you eat and jog frequently enough for the activity to make a difference.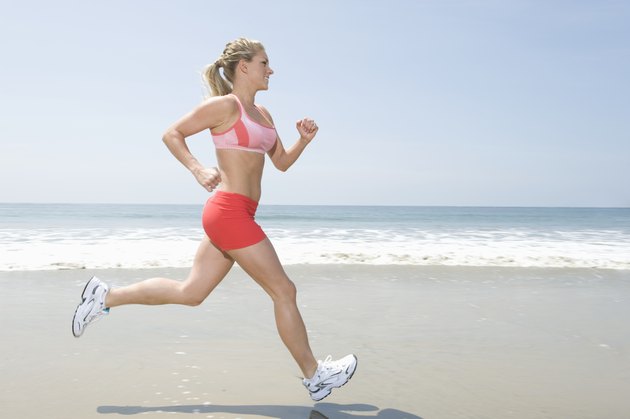 Anatomy of a Pound
The bottom line for any weight loss is burning off more calories than you consume. Each pound is worth 3,500 calories, which means you will gain 1 lb. for every 3,500 calories you consume above and beyond what your body burns, and you will lose 1 lb. for every additional 3,500 calories you burn off beyond your body's needs.
Calories Burned
Jogging burns calories, for sure, but just how many depends on your weight, your pace and the duration. Thirty minutes of jogging 5 mph for a person weighing 155 pounds burns 298 calories, while someone weighing 185 pounds burns 355 calories.
Jogging Frequency
Your half-hour of jogging won't do much good as a one-time deal, but if you jog every day for 30 minutes, you'll notice a difference. The only way the difference will equal a lighter weight, however, is if you adjust your calorie intake to burn off more than you consume. Even if you don't lose weight, jogging for 30 minutes each day will improve your cardiovascular fitness and endurance. Jogging 30 minutes each day also fulfills the recommended daily dose of exercise and exceeds the 2.5 hours of moderate aerobic activity per week suggested.
Calculations
If you weigh 155 pounds, a daily 30-minute jog will burn 2,086 calories weekly, which is not even a full pound. If you cut back calories, you can speed up the process. If you remove 500 calories from your daily diet, you are reducing your weekly calorie intake by 3,500. That means you'll lose one pound per week from your diet alone; plus burn an additional 2,086 calories with your daily jog for a combined 5,586 extra calories burned each week. In a month, that's about 6 lbs.