As you age you begin to lose the structural fibers that strengthen skin, according to the American Academy of Dermatology. You may notice that your skin bruises easily and that cuts or scrapes take a long time to heal. Increasing your intake of certain vitamins and other nutrients may make your skin more resilient and less likely to bruise. Before you make any changes in your diet or begin taking vitamin supplements, see your health care provider for an evaluation of your skin health and nutrition needs.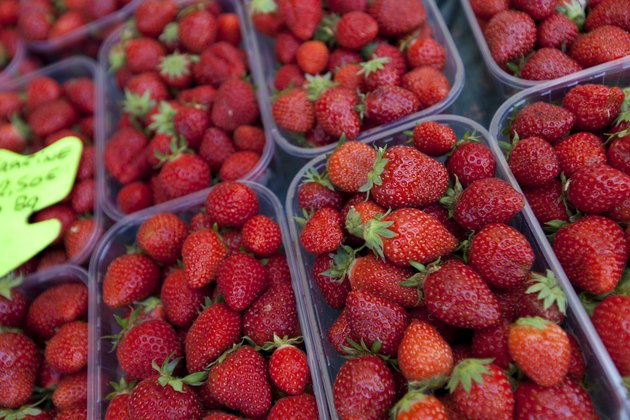 Vitamin A
Vitamin A contributes to skin health by promoting tissue integrity and preventing infections in injured skin. This fat-soluble vitamin may also help your skin retain elasticity and moisture as you age. In a study published in the October 2007 issue of the "American Journal of Clinical Nutrition," the authors note that middle-aged and older women with a lower intake of vitamins A and C had drier, more wrinkled skin than women who did not have a low intake of these nutrients. Vitamin A occurs in milk, eggs, liver and fish liver oil. Beta-carotene, which turns into vitamin A in your digestive tract, is found in orange, yellow, red and dark green vegetables and fruits. The RDA for vitamin A is 2,333 IU for women and 3,000 IU for men. Excessive amounts of vitamin A may be toxic in older adults, the University of Maryland Medical Center cautions.
Vitamin C
Wounds in elderly adults may require up to four times longer to heal than in younger adults, MedlinePlus notes. Vitamin C promotes wound healing by contributing to the formation of collagen, the structural fibers that strengthen your skin and connective tissues. Sun exposure and a loss of collagen and elastin, the materials that make your skin elastic and resilient, cause wrinkles in aging skin, the AAD notes. Vitamin C also supports your immune system, which may help prevent infections. Citrus fruits and juices, peppers, potatoes and many other fruits and vegetables are rich in this water-soluble vitamin. The RDA for vitamin C is 75 mg per day for women and 90 mg for men.
Vitamin E
Vitamin E prevents damage to your cell membranes, which may result in healthier skin tissues. This fat-soluble antioxidant vitamin may protect elderly skin from sun damage and from the harmful effects of free radicals, substances that can increase the effects of aging. Vegetable oils, avocados, nuts, seeds, whole wheat and wheat-germ oil provide vitamin E. The RDA for vitamin E is 15 mg for all adults.
Vitamin K
Mature skin bruises more easily because it has lost some of the subcutaneous fat and connective tissue that stabilize blood vessels, the AAD states. Medications, such as warfarin or aspirin, increase your risk of bruising, but they help reduce your risk of heart attack or stroke by preventing abnormal blood clotting. Increasing your intake of vitamin K, a fat-soluble vitamin that allows blood to coagulate, may decrease bruising, but it counteracts the effect of anticoagulants and antiplatelets, and increases your risk of heart attack or stroke. If you take these medications, do not increase supplemental or dietary vitamin K without first consulting your doctor. Green vegetables like kale and romaine lettuce are rich in vitamin K. The adequate intake for vitamin K is 120 micrograms for men and 90 micrograms for women.
Other Nutrients
Dietary protein and zinc play vital roles in protecting fragile skin. Protein provides the essential materials for regenerating and repairing tissues. According to authors of the "American Journal of Clinical Nutrition" article mentioned previously, low protein intake increases skin fragility in older adults. Zinc plays a vital role in wound repair. A zinc deficiency may delay wound healing in the elderly.